Mallorcan Magic – Episode 06
---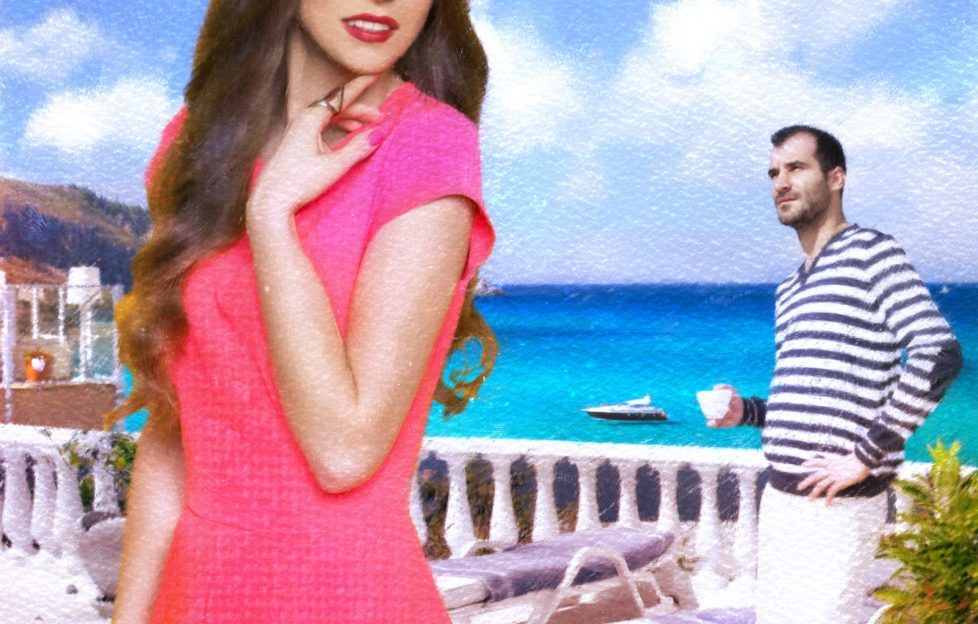 Illustration by Jim Dewar.
Lunch exceeded her expectations. Danny entertained both Eira and his children until, at three o'clock precisely, a pretty young woman walked towards them. Eira wondered if she was about to meet Mrs Carpenter.
"Eira, meet Sue," Danny said. "She's our nanny and Girl Friday rolled into one and goodness only knows how I'll manage without her once she leaves us." Sue smiled at Eira.
"Nice to meet you. Mr Carpenter's quite capable of coping but it's kind of him to say what he said."
"Sue's returning to the UK to get married the weekend after next. Her husband-to-be is a lucky fellow."
"Congratulations, Sue. You must be so excited."
Why did Eira keep hearing about people getting married? Instinctively, she tried to twist an imaginary engagement ring on her finger. To her chagrin, she saw the gesture didn't go unnoticed by Danny although the pale band of skin where her ring had rested could no longer be seen.
"Excited and nervous!" Sue turned to the children. "Come on, you two, let's get you back to the apartment."
The nanny gathered up children, towels and rubber rings.
"Maybe I'll see you before I leave, Eira?"
Eira opened her mouth to speak but Danny answered for her.
"I imagine so. Eira's staying in an apartment here until –?"
"It's open-ended. My holiday, I mean. I need to start job-hunting soon but my friend wants me to stay for at least three weeks now I'm finally out here."
"Well, enjoy your vacation," Sue said.
"Mallorca's a beautiful island. I'll miss it." Once they'd gone, Eira looked at Danny. "Your children seem very confident." He shrugged.
"They've had to be. They've spent much of their lives travelling with their mother and me. Kasha's a successful model." "Kasha? Is your wife Kasha Delaney?" He nodded.
"Can't mistake the name, can you? And she's my ex-wife," he corrected himself. "We are divorced."
Eira swallowed hard.
"I can see what you meant about your daughter's hair. She's a miniature Kasha!" Danny's expression grew grim.
"Let's hope that applies to appearance only." He glanced at his watch. "I'm afraid I have an appointment in town later. I wanted you to meet the children but I'd like to see you again. Would you have dinner with me tonight? Say, eight o'clock in the foyer so we can have drinks first. I try not to eat as late as most Spaniards like to, if that's OK with you?"
"I – I'm not sure."
"Not sure about the time or not sure you fancy spending an evening in my company? Remember, strangers turn into friends."
Eira's heartbeat was racing again. She thought of Helen and Antonio, being so sweet to her, missing out on private time together because of her presence. What harm would one dinner date do?
"Well, I am on holiday." She smiled.
"Is that a yes? I'm stealing you away from your friend, aren't I? Will she mind?"
"Her boyfriend's calling round later. I think she'll cope without me." Eira's confidence had grown since noticing the slight vulnerability in Danny's expression when he invited her out.
"Excellent. I'm looking forward to your company. I'll be quite straight with you, Eira. I have a proposition for you. But now, I have to go and put on a suit before I drive into Palma. Shall I walk you back to your lounger?"
"Please don't bother. I might read a while longer then go back to the apartment."
But although she tried to concentrate on the complicated lives of the fictional 1945 American girls, she soon closed the book, unable to stop wondering what Danny's so-called proposition might be.
Inside the apartment, she closed her bedroom curtains, ready to take a siesta. Her dinner date with the enigmatic Londoner might shock Helen but Eira would reassure her, especially when she told her friend how caring Danny was towards his children.
She'd read nothing in the UK newspapers about his split from Kasha and knew her parents would disapprove of her dating a divorced man. She was unlikely to hit the headlines even if folk might wonder who Danny's new companion was.
Eira drifted off to sleep despite the sound of people having fun wafting through her half-open window.