No. 4, Whitehall Gardens – Episode 13
---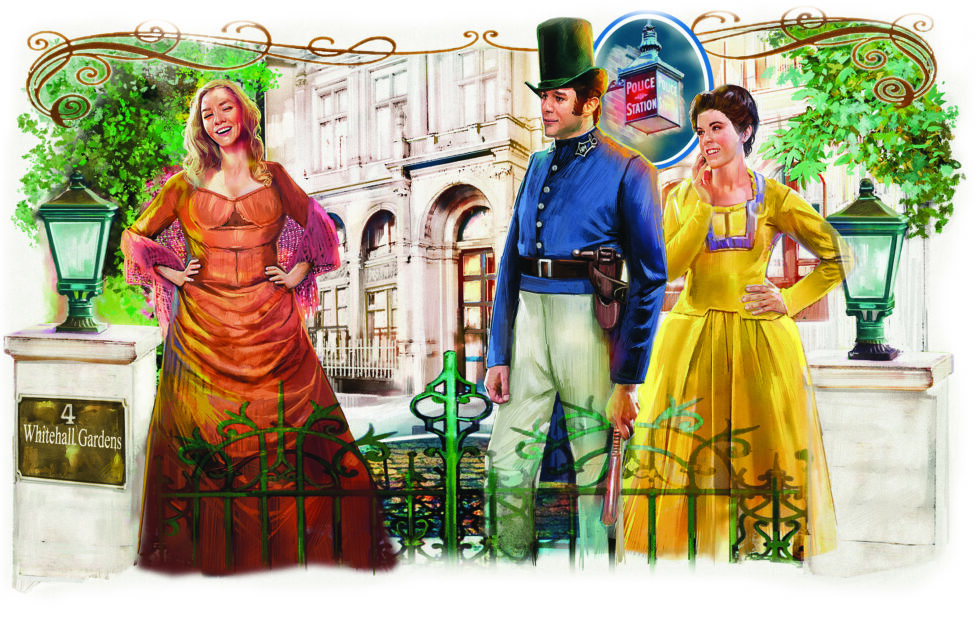 Illustration by Sailesh Thakrar.
Clementine walked along the path, feeling the cold of the day suddenly.
"Molly, I cannot be a part of criminality."
Molly ran after her.
"That's just it! Your part would be quite above board. You must know who looks after the stables here."
Clementine shook her head.
"Griff Jones is a good man and would never –"
She stopped talking as the sound of singing reached their ears. It was a deep and not entirely melodious rendition of "A Spanish Lady".
As if at the sound of his name, the coachman himself had come round the corner of the house, a pair of bridles slung over his shoulder.
He stopped dead, his tune died away and the metal on the tackle clattered as he looked at Clementine and turned pink.
Molly looked from his large, handsome face to Clementine's, and smiled wickedly.
"Miss Clementine," Griff said, and the jangling stopped.
"I am Molly Westall," Molly said, hurrying towards him and offering her hand. "Best friend of Miss Clementine."
Griff blinked and dragged his eyes from Clementine.
"Pleased to meet you," he said.
There was another five seconds of silence until Griff cleared his throat and walked with them as Clementine set off for the garden door again. The tackle made a racket.
"Half in love," Molly whispered gleefully.
"Don't be ridiculous," Clementine said.
Griff gave her a last look and headed for the stable.
Molly shrugged.
"Some of us are more practised in love than others. But this is wonderful! With a fluttering of your lashes you can have this coachman wrapped around your finger!
"All you have to do is persuade him that the next pair of carriage mounts for this house should be ordered from London's newest high-class equestrian supplier."
Molly clapped her hands together.
"First it was just me you wanted to entangle in your scheme, and now you want Griff Jones, too?" Clementine asked.
"He'll do anything for you, and all that's needed is for him to choose us over another trader, Clemmy.
"There is nothing naughty involved. Silas and I will buy the horses fair and square, and that's the truth. There is no success without outlay, as my father would have said."
Clementine was shaking her head, and Molly took her arm again.
"For old times' sake! For friendship and loyalty, and for all that we have endured together."
Clementine withdrew her arm from Molly's. She thought of her mother, so anxious that she should take a straight path with no more risks.
"You can find another house for this purpose, I am sure," she declared.
"But this house is heaven sent. My greatest friend is working here; her beau has control over the horses."
"Not my beau," Clementine said firmly.
"He's in love with you. I've said so." Molly drew back and looked down at her feet. "I had hoped not to mention favours done and debts owed."
"What debts?" Clementine asked sharply.