Northern Lights – Episode 26
---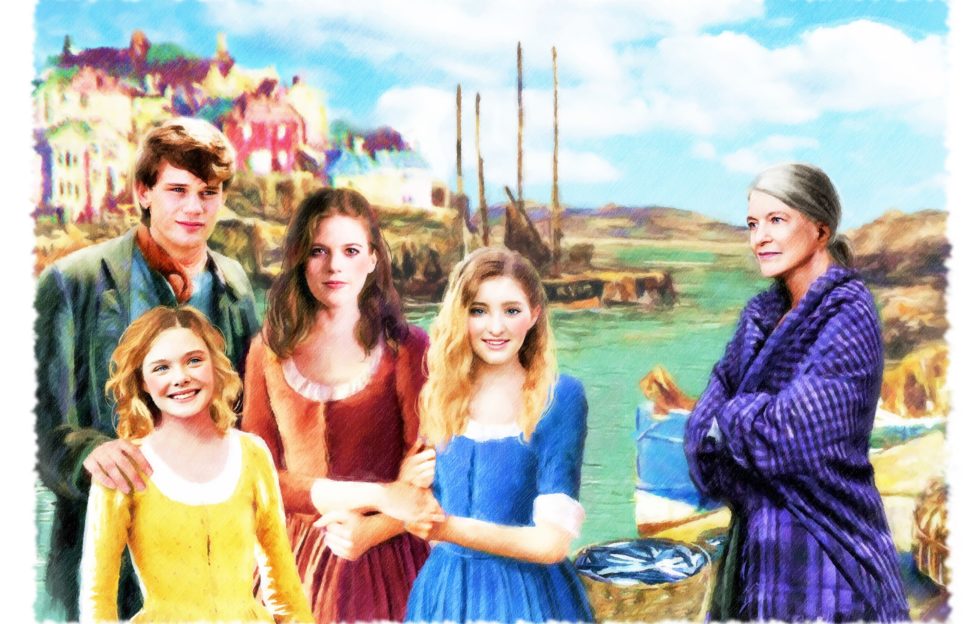 Image: Ruth Blair
Back in the living-room Lilias found the three girls had finished breakfast and were preparing to leave for work. Alec had been up at the crack of dawn and off to the yard while they were still abed.
Lilias had heard his cheery whistle in the pend as he left and the sound gladdened her. The lad had steady work with Jeremiah Cuthbert, the smith, and a secure future ahead, God willing. Her mind rested easy where her grandson was concerned.
Lilias turned her attention to the future planned for the girls.
"When the men are settled in the bothy, you lassies will help me run the lodging house."
They were taking turns before the mirror as girls do in summertime, tidying hair, fiddling with buttons and bows, arranging becoming drapes of shawl.
They stopped preening and stared.
"Give up work, you mean?" Maggie asked.
"Aye, you keep the hoose and the hoose will keep you!" Lilias smiled. "Plenty work for you lassies in the comfort of your ain home."
Amy gave a plaintive wail.
"But I love working at the sailmaker's! I'll miss meeting my friends, the other lassies. We sometimes hae a laugh and a joke while we work and the men join in."
Her grandmother tightened her lips.
"That's a' very well for you, miss, but Cathy Mary works in a crowded basement sewing sailors' breeks. That's no joke!"
Unexpectedly, Cathy Mary protested.
"I dinna want to leave the shop, Grandmother."
"Whit?" Lilias exclaimed in exasperation. "Fifteen women crammed into thon unhealthy cellar? It's a sweat shop, lassie!"
"I don't care; I'll not leave," the quiet lassie insisted.
Lilias was reminded poignantly of similar tussles with the girl's dear departed mother. Rebellion threatened disaster to carefully laid plans and she glowered at the rebels.
"Off ye go to work, you two. I want a word wi' Maggie."
She shooed the younger ones out the door and turned to her eldest granddaughter.
"We agreed the lodging house was the way forward, Maggie, but I didna plan tae shoulder all the work. I ken that you in particular will gladly stop scrubbing steps and washing shop windows to keep the lodging-house clean."
"I'll help when needed, Grandmother, but I'll not abandon my regular customers," Maggie declared stubbornly.
Lilias felt let down. She had sacrificed the Boatie, spent her life savings and suffered weeks of worry and anguish for her grandchildren's sake, only to have her efforts scorned.
She'd counted upon Maggie's support, but perhaps that was always a forlorn hope.
Lilias had imagined her eldest granddaughter would leap at a chance to escape a daily drudgery of scrubbing steps and washing windows in all weathers.
She had hoped Maggie could set aside memory of past tragic events and look to the future working together. Above all, she had hoped for Maggie's forgiveness.
It was obviously not going to be forthcoming and Lilias could hardly contain her disappointment.
"Och, I ken the young grocer's keen on you, Maggie, but even so I thought you'd be committed tae the lodging-house venture."
Maggie's mouth fell open in astonishment.
"You mean Mr Cameron's fallen in love – with me?"
"Don't tell me ye hadna noticed?"
Lilias was dismayed. If she'd known this was news to the innocent lass she would not have spoken a single word.
Maggie shook her head wildly.
"He's kind to our family and always pleasant to me, but – but that's all!"
She faltered into silence, pathetically disturbed and agitated.
Lilias's heart contracted with pity. Had relations been less strained she might have rushed to hug and reassure the motherless lass, but as things stood between them her arms remained awkwardly pinioned by her sides and she struggled to find words.
"He's a good man, Maggie. It's to his credit that he's never said anything."
"I suppose so," Maggie said in not much more than a shocked whisper.
The girl's thoughts were in torment. She'd been so preoccupied caring for her younger siblings since their father's death there had been no time to contemplate any affairs of the heart.
If it did happen in a distant future with some unknown lad she had supposed a friendship might grow into something deeper and more meaningful.
It was little wonder she found her grandmother's distressing revelation unexpected and unwelcome.
The situation went far beyond Maggie's limited experience of life and she had no idea how to cope.
One thing was painfully clear. Mr Cameron must find someone else to wash his windows