Northern Lights – Episode 37
---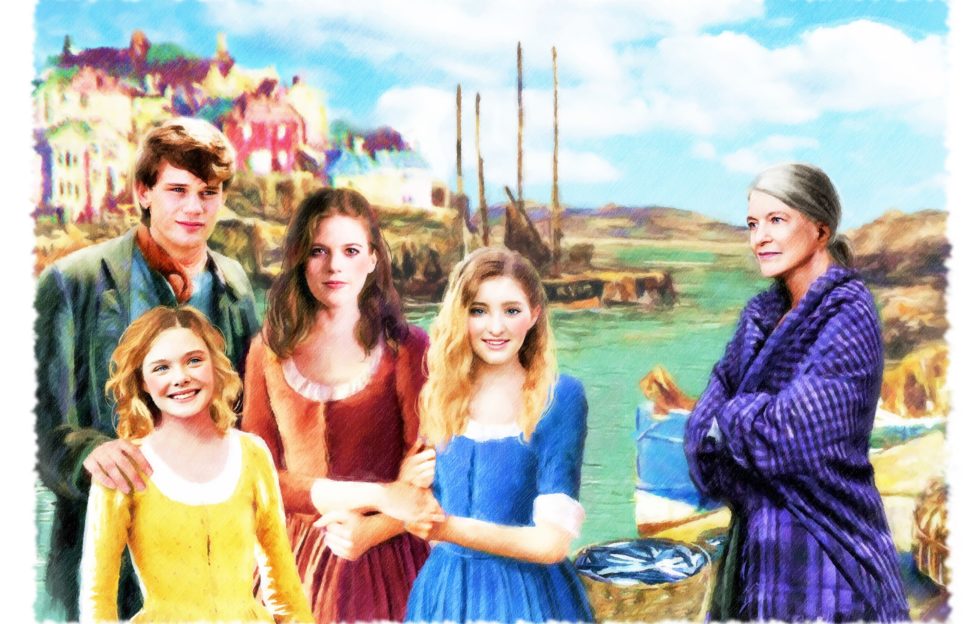 Image: Ruth Blair
Amy Cargill was walking on air as she returned home that evening. Midshipman designate William Walker had taken possession of the finished ditty bag at noon.
His genuine delight in the exceptional article and warm smile of gratitude he bestowed upon Amy would live in her memory for ever. Bandaged fingers and aching hands during the difficult sewing was small price to pay.
Only Amy knew of a secret prayer expertly sewn and hidden away, tucked under the leather lining of the ditty bag base.
God bless you and keep you safe from harm.
She kept her gaze lowered as the young man enthused over the workmanship. She dare not let him glimpse how much she feared for his safety as he prepared to go to war, and how grievously she would mourn should he never return.
William Walker saw a bowed head surmounted by the linen close cap all lasses wore. Soft curling tendrils of fair hair escaped, framing flawless rose-pink cheeks.
He recalled he'd been somewhat high-handed during their first encounter and wanted to make amends.
"They say battles are won by the powder-monkeys who keep the cannons firing. If I am called to join their ranks I shall be proud."
Amy glanced up sharply.
"No, sir! Resist the call. The danger is too great."
"You are concerned for me?"
"Yes, I am."
Their eyes met and he was startled by the jolt it gave him.
"I do not know your name."
"It is Amy."
Her working companions were whispering and giggling and he felt his cheeks redden.
"The ditty bag is beautifully made. I thank you, Amy."
He gave a formal little bow and made a hasty exit.
Amy walked home in a dream, reliving every moment of the encounter.
It was a harsh return to reality to find a stranger installed in the house. Fionah Creagh had survived Maggie's rigorous bathing and hair washing in a tin bath in front of the fire.
The Highland lass's clothing was discarded and she had been dressed in cast-offs Amy recognised as her own rejects.
The old dress fitted the girl's slender form perfectly and suited her well.
Amy could not help a twinge of jealousy, but gritted her teeth and decided to put up with the skivvy . . . because the intruder had a dog.
For years Amy had begged her father to let her have a dog, but his response had never varied.
"Not when I'm away at sea for days on end, lass. A dog needs a master to control and train its behaviour. Dogs have sharp teeth and are not toys for a little lass to play wi'."
Yet this skinny girl had a dog.
"What is its name?" Amy demanded.
She wrinkled her nose when given name and translation.
"He's not an old man! I will call him Smokie, because he is grey like Grandma's smoked fish."
She held out a hand imperiously.
"Come here, Smokie!"
The dog stared, lowered its head suspiciously and growled deep in its chest.
"I am sorry. He only understands Gaelic," the girl explained.
"Stupid dog!" Amy tossed her head and stumped off to her room.
Cathy Mary had watched the small drama unfold. She felt sorry for her young sister, even if it taught her a salutary lesson in pet ownership. The dog's allegiance was to the Highland lass and Amy must earn its trust.
Cathy Mary turned her attention to Fionah Creagh. The girl would not be judged bonnie by popular standards of the day, but Cathy Mary's trained eye noted how well she wore the hand-me-down dress, with a flair that made it her own.
Cathy Mary's clever fingers itched to design a gown that would enhance this graceful girl's full potential.
It had been a momentous day already. A titled lady had arrived in the Nunnery that morning demanding a plaid skirt of superior style, suitable for gentle gardening in the estate's rose garden.
Cathy Mary was selected to perform the commission and took the fine lady's measurements with trembling hands and bated breath.
Afterwards, Mistress Gray called her into the office.
"My cousin Ethel writes of a New Town of noble terraces being built in Edinburgh, Cathy Mary.
"Overcrowding in the old town properties around Castle Hill makes life unbearable for the upper classes and Ethel, too, plans to move her dressmaking business to premises in the New Town.
"It will be a golden opportunity, she writes. Assemblies and fashionable functions will create huge demand for new gowns and she would value my help when the time comes."
She paused a moment.