The Dividing Tide – Episode 20
---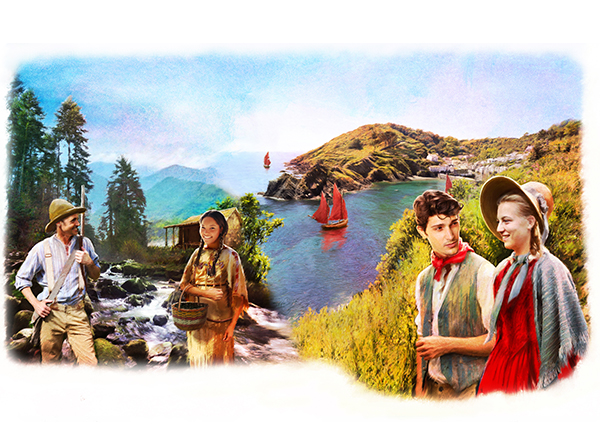 Illustration by David Young.
"We wanted to tell you," Jane said, "so that you can warn your friends up at Running Water. I don't think they'll make any exceptions, but perhaps there's somewhere they could get away to before it's too late?"
"Where would they go?" he responded. "Where would any of them go?"
Anger surged through Thomas. How could an old man, and a woman unable to walk properly, manage to trudge a thousand miles or more? How would they survive?
"They're still planning to send them to the same place, are they?" he asked.
Jane nodded.
"The plains west of the Mississippi, yes." She picked up the coffee pot and poured some into each of the three cups. "It would be a bad enough journey at the best of times, but with winter coming it will be simply dreadful."
"Is there anything we can do to stop it?"
Angus shook his head.
"Seems all the arguing's been done, my friend."
Jane sighed.
"But surely there must be something we can do to help them?"
Her husband rubbed his sandy whiskers.
"There's only one thing, as I see it," he said slowly, "and that's to go with them."
"Why, then, that's what we'll do," she announced, replacing her cup in its saucer. "I wonder I didn't think of that myself. We're missionaries, after all.
"Wherever there are people needing help, that's where we must be. There will be a lot to do, Angus," she warned. "We'll need plenty of provisions, for it'll take weeks if not months to get there. Thank goodness we've got the wagon."
"We'll need medical supplies, too," Angus added, warming to the theme, "and . . ."
Thomas let them chatter on as his thoughts churned. The situation was serious. With so many soldiers in town there would be more than enough to send out to search for stragglers. People like Ahyoka and Kanuna.
He stood up, his coffee untouched.
He had to warn them, and quickly.
*  *  *  *
December was approaching, and the excitement about the Christmas ball could be felt throughout the house. Jenna couldn't help but feel it, even though she knew she wouldn't be attending.
One morning at breakfast, she looked out of the window. Inclement weather had kept her cooped up for days, but now a wintry slant of sunshine fell across the copse at the back of the house and it seemed as if it were beckoning to her.
She'd run whatever errands her aunt wished her to, then go for a walk, she decided. It would be wonderful to escape into the fresh air for a while.
Jago finished his plate of devilled kidneys, put down his knife and fork and smiled round at each of them in turn.
"Is everything in place for the ball, my dear?" he asked, for he always had something to say to each of them before he left for the mine in the mornings.
"Arrangements are coming along nicely, thank you," Morwenna replied, sipping delicately at her tea then dabbing her lips with her napkin.
"The musicians have been engaged, and extra servants hired. The blue drawing-room will be emptied a little nearer the time, though where we're going to put all the furniture I don't know."
He smiled.
"I'm sure you'll manage, my dear."
"The stablehands are going to cut some holly and evergreen the day before the ball, Papa," Lamorna said, reaching for the butter dish. "I'm going to help them."
"You'll do no such thing!" Morwenna remonstrated. "The stable boys are more than capable of cutting a few branches from the woods without any help from you!"
"Oh." Lamorna usually got her own way, and for once was crestfallen.
Jago turned to Jenna.
"And what about you?" he enquired gently.
"I've been helping Aunt Morwenna," she replied, smiling. "We've sent all the invitations, and have had a great many replies already."
"Good, good. And what have you decided what you are going to wear? I know how you young girls love to get your apparel prepared in good time. It's all organised, I take it?" He leaned back in his chair.
"I don't know what you mean, Uncle. I won't be attending."