The Glens of Stone – Episode 08
---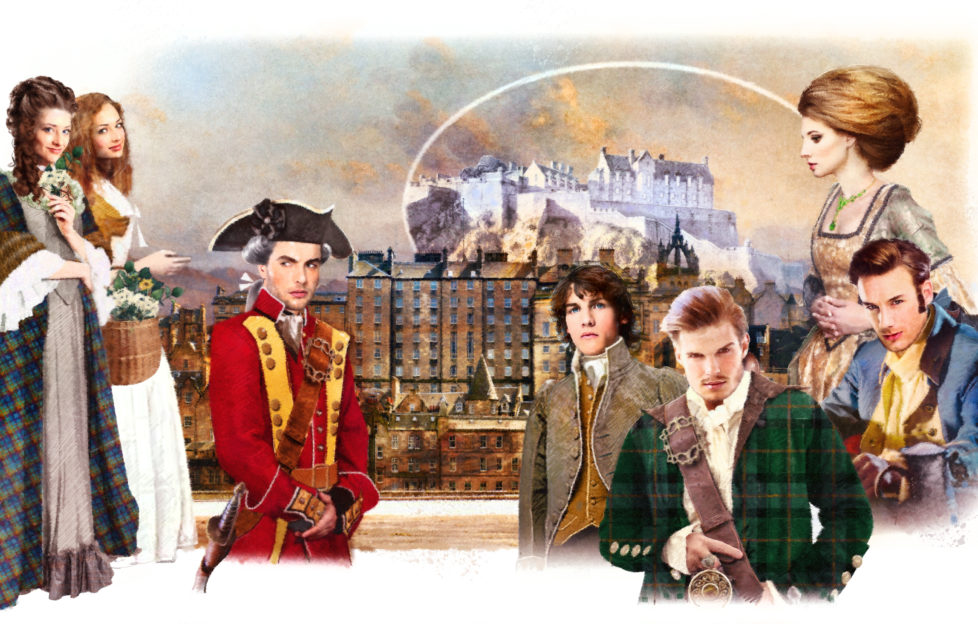 Illustration by Mandy Dixon
Ewan Ogilvie stood on the northern slopes of Edinburgh's great hill, Arthur's Seat. The crenelated silhouette of the city at dusk lay before him. Below him lay parkland, thick with shrubs and trees which played host to the numerous deer, boar and footpads seeking refuge and prey in its dense cover.
Ewan was happy and proud at that moment.
Happy, as he had all but accomplished the tasks set him by those who sought his services. Before long he would be free to return to France and his beloved Jacobite regiment, the Scots Royal, in which he held the rank of major.
Proud, because he'd established a name for himself and a reputation far beyond the dreams of his boyhood.
Born thirty years previously in a two-roomed cottage in Forfarshire, he'd been quickly orphaned when his father was killed at Sheriffmuir fighting on the Jacobite side during the 1715 rising and his mother died of a broken heart weeks later.
Raised by an uncle, a widower and staunch Jacobite, he had been taken to France at the age of seven where he and his uncle had joined other Scots exiles in the suburbs of Paris.
Strongly built with piercing brown eyes, Ewan had set out to earn respect using the talents he'd been given, namely an excellent memory for faces and facts, linguistic ability – he could converse easily in Gaelic, Scots, French and German – and impressive skill with firearms, swords, knives and in hand-to-hand fighting.
In his late teens he had volunteered as a Jacobite spy and after a period of training had been sent on various missions to Britain where he had established a network of espionage cells throughout the country. He had become a master of disguise, which enabled him to move in all levels of society with little fear of discovery.
Such was his prowess he had been invited to accept a commission in the Scots Royal and soon reached the high ranks. His patron and friend in the regiment was Colonel Alastair Crawford, and it was he who had given him the task now nearing completion.
In France plans were at last being formulated to send the exiled Prince, Charles Edward Stuart, to rally the Scottish Jacobites to his cause.
Ewan's first task had been to raise funds to buy arms and food for the rebels as well as mustering as many sympathisers as possible to take up arms.
Colonel Crawford's second task had been much more intriguing. In essence, Ewan's mission had been to seek out, and protect with his life, certain individuals of interest to the colonel.
He had discovered they were not all socially prominent or indeed Jacobite supporters, but he did not question his superior's orders. A few loose ends remained but, all things considered, Ewan was content.
Shoulders hunched against the wind, he trudged further up the hillside towards the village of Duddingston where he had quarters in the Sheep Heid Inn.