The Glens of Stone – Episode 19
---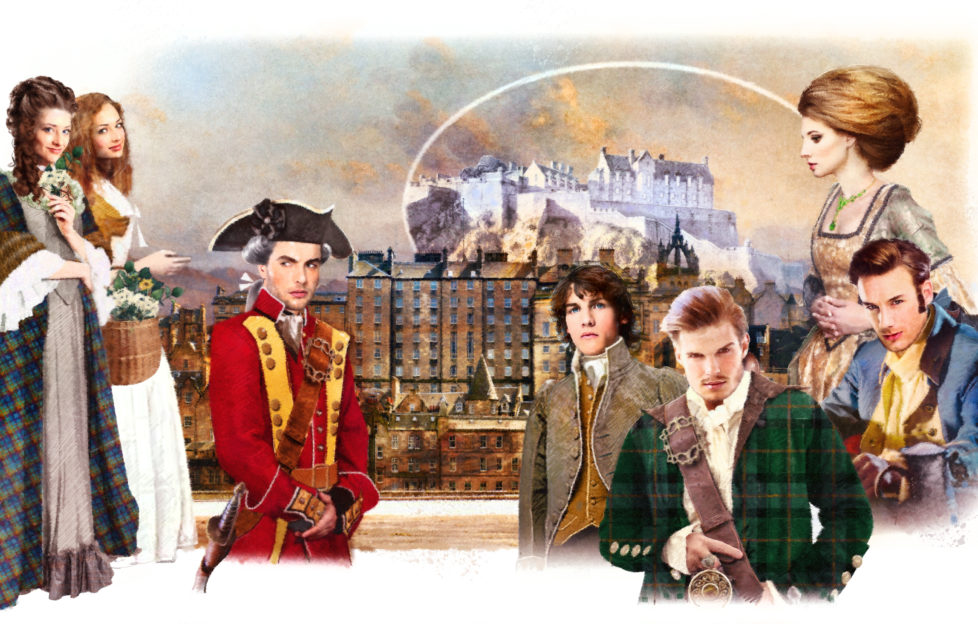 Illustration by Mandy Dixon
Alison Porteous felt the man at her side putting his arm around her waist. Shyly she looked up at him, admiring his craggy handsomeness.
"Father wouldn't approve, Mr McCrae," she said, snuggling closer. "He's very protective."
"Call me Sandy, for goodness sake. And if I had a daughter as talented and pretty as you, I'd be protective, too."
As they walked on, hand in hand, Alison was frowning slightly. Noticing it, Sandy gently cupped her chin.
"Why the serious face?'
Alison stopped in her tracks and turned to face him.
"I don't know anything about you," she said. "Just your name."
"Is that all?" He gave a short laugh. "Heavens, I feared some dire news. What do you want to know?"
"Everything."
"Well, I first saw the light of day in a little village called Achahoish. That's in Knapdale."
"I know where it is," Alison said. "We stayed in Ardrishaig when I was young before Fa– before we came to Edinburgh."
"I often went to Ardrishaig for provisions. Possibly I was within a few paces of you and didn't know it," he marvelled. "Anyway, we moved when I was eleven. My father, a forester, hated politics and, it being Campbell country, didn't favour King George. So he brought us east to Dunbar and that's where I was reared until I chose to make a life for myself."
"You're a Jacobite, then?" Alison asked, and Sandy shrugged.
"Like my father I dislike politics, but let's say I have no great liking for German Geordie."
"So what do you do now? How do you make a living?" Alison pressed.
"I'm a soldier," Sandy replied carefully, "of fortune. I live by my wits, offering my services to those who need them." He placed a finger across her lips. "That's enough about me for now."
Reluctantly the girl nodded.
"Aye. But we'll talk of this again. For all I know you could be married."
He grabbed her hand.
"Married? Who'd have me?"
Their walk through the parkland brought them to the edge of St Margaret's Loch. Its coolness had attracted many citizens seeking relief from the summer heat.
Together they watched the numerous rowboats plying back and forth, until Alison began to look concerned.
"It's time I got back to the Mission before I'm missed."
"But it's still early. Besides, who'll miss you?"
"The other helpers," Alison muttered dejectedly. "Kirsty and Ellie."
"I get the impression you don't like them."
"Och, they're all right," she said. "It's just that Kirsty had real . . . oh, never mind." She broke off.
"Real what?" McCrae pressed. "You can tell me."
With the glint of tears in her eyes, she looked up into his eyes.
"Parents," she said hoarsely. "Real parents."