The Glens of Stone – Episode 52
---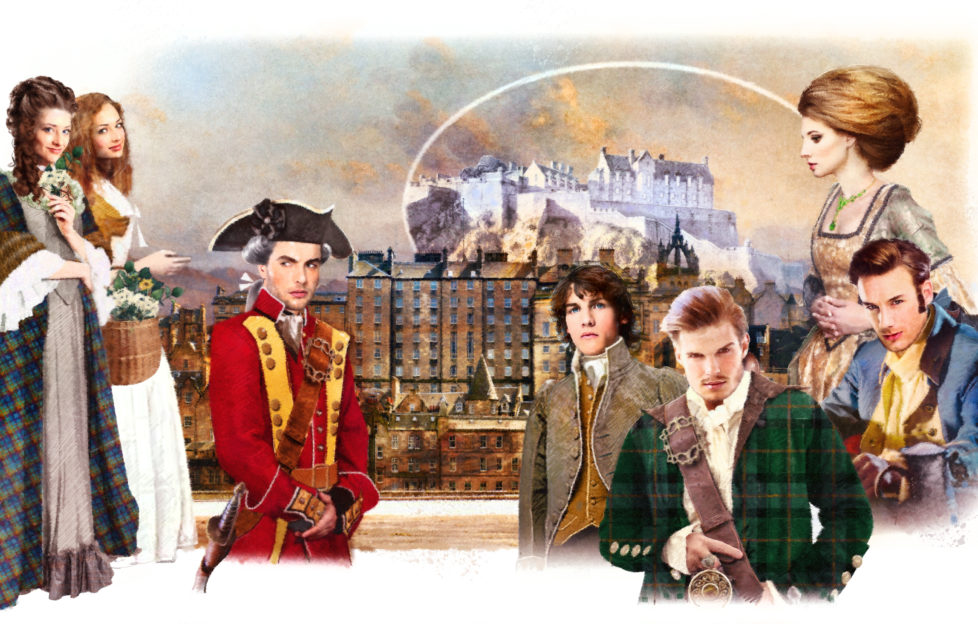 Illustration by Mandy Dixon
It was a feeling definitely not shared by Robert when the discovery was made next morning.
"Missing?" he bellowed. "How can they be missing?"
Robert set off for the guardroom, buttoning his tunic as he went. A nervous sentry assured him that no unauthorised personnel had left the castle, only soldiers, and certainly no elderly man and young girl.
"Then where the devil are they?" Robert was contemplating forming a search party when the sentry coughed to catch his attention.
"Er, there was the supply wagon, sir."
Robert felt a chill creep up the back of his neck.
"What supply wagon?"
"The driver assured me you knew about it, sir," the guard protested as the castle was turned upside down in the hunt for John Porteous and Ellie.
"What was in the wagon?" Robert asked, suspicion growing.
"The driver said it was provisions for the Mission – like you promised the lassie that night, sir!"
"I suppose it's too much to ask if you searched the wagon?"
The soldier avoided Robert's gaze. Answer enough.
Robert allowed himself a rueful laugh. Whoever had orchestrated this escape had some nerve.
A niggling feeling sent him towards the store rooms. There, as he feared, a young dragoon admitted he'd helped another soldier load up a wagon with assorted foodstuffs . . .
Malcolm Porteous arrived at the castle shortly afterwards to see his father.
"They aren't here," Robert told him. "They escaped during the night." He gestured to Malcolm to follow him, noticing the other man's keen interest in everything around him.
"We have men and provisions to withstand a siege," Robert told him.
"Siege, Captain Marshall?" Malcolm probed mildly.
"The rebels are but a mile or so away," Robert said bluntly. "But at this very moment they are likely encountering Colonel Gardiner, one of our best commanders. The colonel has mustered two dragoon regiments, ably supported by a vast Volunteer Corps made up of Edinburgh men who have no wish to see a Stuart on the throne."
"My, but the Prince's followers must be shaking in their boots," Malcolm said solemnly.
"Mock if you will –" Robert's tone was savage "– but I warrant the rebels will be miles away by morning, their tails between their legs."
In spite of his brave words, however, deep down he shared the general's view that Gardiner and his men would be routed.
They had reached the castle entrance.
"As the son of a traitor," Robert warned, "take care you do not find yourself here again."
"Oh, I'll not seek you out, believe me," Malcolm assured him, "though perhaps one day we will meet on friendlier terms." He paused. "You may care to accept an invitation to attend my marriage to Miss McAllan."
Robert felt a twinge of envy. Miss McAllan was a lovely young lady. Lucky fellow, he thought.
* * * *
Later that day Kirsty went to buy some medicinal syrup for Alison and wondered at all the activity she saw on her way up from the Canongate.
People were crowding the north-facing walls, windows and closes, peering down at the Nor' Loch and the land beyond, and she heard mutterings about rebel forces.
As she waited for the apothecary to make up the mixture, she felt uneasy.
To her surprise Robert Marshall appeared at her side and she sensed his agitation. He had come for a physic for General Guest's arthritis.
"Surely one of the soldiers could have come on such an errand?" Kirsty said.
"True, but I wanted to gauge the mood of the citizens, though most of them have no idea what's happening."
"And just what is happening?"
Robert's face darkened.
"Colonel Gardiner's army encountered the rebels early this morning. But unfortunately many of them ran away, damn their hides, and the 'brave Edinburgh men' of the Volunteer Corps turned tail at the first musket shot."
"I see." Kirsty was carefully non-committal. "Is there any news of Sergeant McCrae?"
"None. The colonel and such men as stood by him have retreated to join General Cope's army at Dunbar. Sergeant McCrae should have returned here for further orders, but . . ."
Kirsty knew what his absence meant. The sergeant was either dead or missing in action. She bit her lip; how could she tell Alison this news?
The apothecary appeared and handed her a bottle.
"There's a touch of laudanum in this," he warned. "Bid the patient take care."
As she was leaving Robert spoke casually.
"Have you heard from Miss Chalmers, or John Porteous, for that matter?"
"The dangerous spies, you mean? The ones who escaped while you weren't looking?" Kirsty's eyes twinkled. "No, we haven't seen them, but if we do, have you a message for them?"
"I'm sure you can guess what I'd say if I clapped eyes on them, Miss McAllan. I bid you good day."
"And you, sir," Kirsty replied, "though yours may be more worrisome with the rebels advancing on the city."