The Life We Choose – Episode 04
---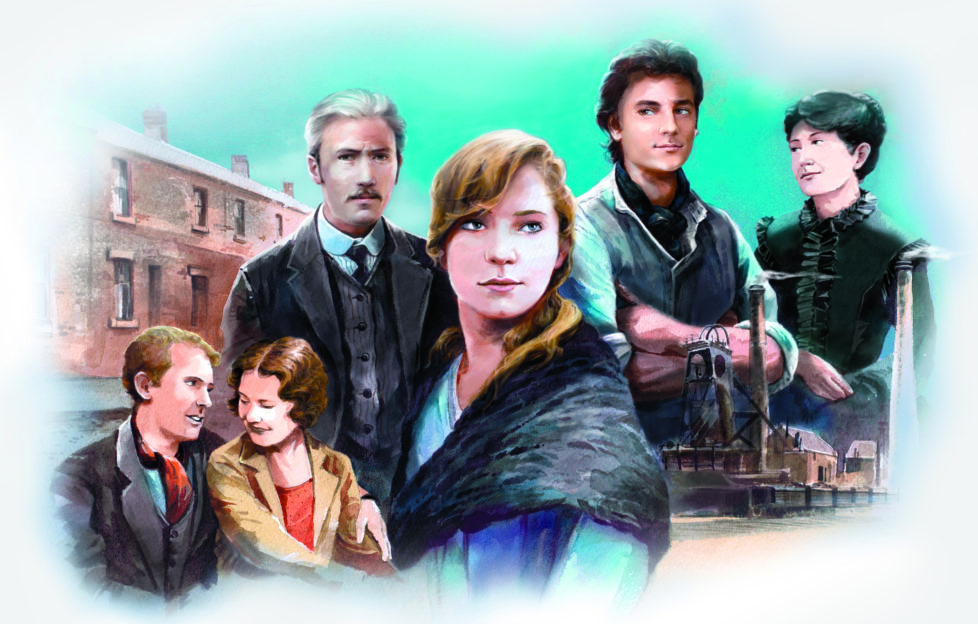 Illustration by Andrew Lloyd-Jones.
In the schoolhouse, Master Ogilvie had abandoned his book and, for once, seemed inclined to conversation with his daughter.
"Mrs Walker speaks differently from the Langrigg people," Sarah observed. "And she speaks with authority. Who is she?"
Master Ogilvie gave a rare smile.
"She's not from these parts, I understand, but she's made herself very much part of Langrigg. Speaks for the colliers' wives when the need arises. Acts as midwife, herbalist, letter writer for those who need that help, and looks after an invalid husband into the bargain."
"How will she have time to teach the smaller children?" Sarah asked.
Master Ogilvie smiled for the second time that evening.
"I've no doubt she'll find a way," he replied.
Later, when Sarah brought through the supper tray, her father seemed still to be in the mood for talking.
"I want you to attend to your studies this summer, Sarah,"
he said firmly. "There has been enough delay. Three years ago, when . . ."
He hesitated then, and Sarah wondered if he might bring himself to speak of her mother for the first time.
He cleared his throat and studied the supper tray intently.
"When you filled the empty place in the small schoolroom," he went on, "it was not intended that you should do such a thing. We had plans for you, for your education. I still have plans . . ." His voice petered out and he made no further effort at conversation.
"I'll clear this away," he said eventually, nodding at his supper tray. "I'll bid you goodnight."
Sarah retreated, biting her lip to quench her disappointment.
*  *  *  *
It was early evening and still warm, the bright summer day burnishing to gold.
Light of step and wearing her blue dress, a matching ribbon holding her river of hair in check, Sarah took off her shoes and danced across the field and away from the schoolhouse where she had spent the afternoon in the company of her books.
She looked forward to her visit to Jess and Sandy in their new home. The cottage on the farm of Jess's parents, the Brodies, was what Jess called a cosy nest and far more suitable and comfortable than the bigger house that Sandy's parents planned to build for them on the larger McAndrew farm.
Sarah smiled to herself as she thought of the contrast between plump, sweet-natured Jess and the formidable Mrs McAndrew. What her friend lacked in inches, she more than made up for in determination. And she was determined to make her home with Sandy in that cosy little cottage.
Coming to the Gowan Banks, Sarah slid down through the mass of flowers and on to the flat of the meadow.
At that moment, she saw him.
Daniel was sitting on the bank of the stream. He was so still that at first she imagined him to be a trick of the light. But as she stepped nearer, her shoes in her hand, he stooped forward, staring at the stream. As she drew nearer, he became conscious of her and leapt to his feet.
He put out his hand.
"I knew you'd come," was all he said as he gently drew her nearer to him.
For a long moment, they stood there, hand in hand, Daniel's eyes searching anxiously over Sarah's face. Then Daniel reached out and touched her hair, his gaze commanding her to look at him.
"You're beautiful, Sarah," he said.
And as if it was the most natural thing in the world, she turned into his arms. His hand smoothed her hair back from her face, his lips brushed her cheek and she flinched as if she'd been burned.