The Life We Choose – Episode 31
---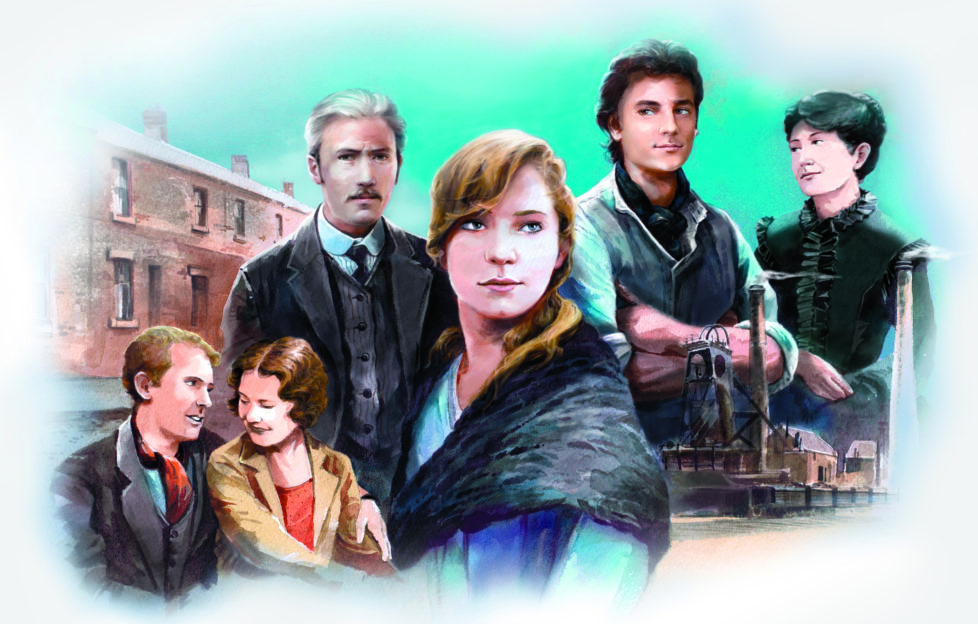 Illustration by Andrew Lloyd-Jones.
Bunty sighed and stuffed the letter into her pocket. Much as she craved a little romance in her life, she knew that Giles could not provide it. With his silk cravats, velvet smoking jackets and many affectations, he was much too self-centred. And in the midst of his circle of posturing friends, she was the only one who offered him warmth, and at times, cheerful affection.
For a while, Bunty sat at the kitchen table considering her options for the day. The rain had stopped and a watery sun gleamed through the windows.
Suddenly she felt the need to get out of the house. Since the colonel and his lady had departed for Venice, Bunty had planned to pay a surprise visit to the pit and to see what Rushforth was up to. She had an instinctive dislike of the man and had picked up on the fact that he was distrusted by the miners at Langrigg. Telling herself that a surprise visit might be a good idea, she pulled on her riding boots and went out to the paddock to fetch the bay and saddle up.
"The colonel wants tae get rid o' ma' beasts," Ned Goudie mumbled, still busy in the stables. "Waste o' money. He's got nae time for ridin' these days and she's no' inclined. And ye're aye in Edinburgh."
Bunty didn't answer. Tightening the girths, she swung herself up into the saddle.
* * * *
Bunty reflected that her day had taken a turn for the better as Sarah settled her in a chair by the range and bustled off to make a pot of tea.
"Happy accidents," she murmured as she took off her jacket and warmed her hands at the fire.
Riding into Langrigg, she had made for the pit office in her search for Rushforth, only to find that he had absented himself from the pit without any explanation and his whereabouts were unknown. Two clerks in the office were waiting for the day shift to come up and they were busy. Saturday was payday, they reminded Bunty.
It was when she had turned away and led the bay up the Front Raw, pausing to let knots of interested children pet him, that she'd met young Sarah Morrison carrying a brimming basket.
"I've started doing a little shopping for Mary Ellen on a Saturday," she'd explained.
Thanks had been relayed for the items of furniture given to Daniel for the house, and Bunty had seized on the offer of a cup of tea which Sarah had shyly extended.
"This is very cosy. You've worked wonders with this place," she said appreciatively to Sarah, who was setting out tea and cake.
Sarah's cup rattled slightly in her saucer as she regarded the plump little figure in boots, riding breeches and tweed jacket. She hadn't meant to invite Miss Bunty, whom she scarcely knew, to take tea here in the Raws. Had she been up in the schoolhouse, she reflected, the invitation might have been more appropriate. But she needn't have worried. Bunty settled herself into her fireside chair and helped herself to a second slice of cake.
"This must be quite a change from living up at the schoolhouse," she remarked. "I must say that you've made a very good start. You've made a lovely little home here in no time at all."
She chatted on about the Wee School, and what a benefit it would be to the village, and about the colonel's regard for Sarah's father.
"Not the easiest of men, my brother said, but an inspired teacher," she told Sarah.
Their conversation was cut short by the drumming of feet as the day shift spilled out at the pit gates and tramped up the Raws. Bunty noticed that Sarah flinched slightly as the sound enveloped the house. She got up suddenly and pulled a pot forward on the range.
"Daniel's dinner," she said, suddenly apologetic.
Bunty watched as she put on her apron and hurriedly cleared away the china teacups. In an instant, the girl from the schoolhouse up on the hill had become a collier's wife. Fleetingly, Bunty wondered if romance would be enough to hold all this together, and hoped that it would.