The Life We Choose – Episode 64
---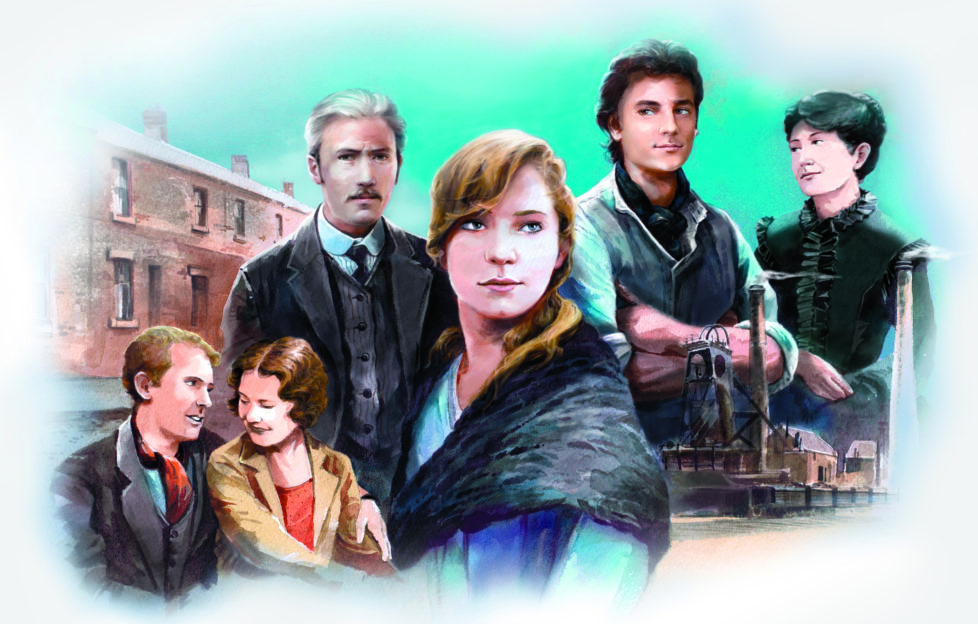 Illustration by Andrew Lloyd-Jones.
Going home through the fields above Langrigg, Bunty found the chill wind blowing in her face invigorating and refreshing. She had, she told herself, given Langrigg a fresh start.
Back at the house, she arrived just in time to prevent Tricky from trying out paint in a violent shade of green on the oak panelling in the hallway.
"This is the best o' stuff," Tricky persisted, tapping his drum of paint. "Big Jamesy had it for paintin' the engine shed up at the pit. A braw colour. It'll fair brighten up this wood."
His voice petered out as Miss Bunty grabbed the large tin of paint, opened the front door and hurled it down the steps.
"Turpentine!" she bellowed. "Get that panelling cleaned up, then go home."
Giles peeped cautiously round the library door.
"Magnificent," he breathed adoringly.
*  *  *  *
Daniel shivered as he tugged the collar of his jacket higher, pulled his cap lower and faced into the chill wind that was blowing along Leith Docks. For the second day running, he had trudged along the quayside looking for work. And for the second day, he'd had no luck.
Now, as darkness was falling and a swirling mist was being blown in off the Forth, his very bones ached at the thought of sleeping for yet another night in a corner of a deserted warehouse with canvas sacking for a pillow. The quays were deserted now, the last of the men having disappeared into the dark wynds of Leith Walk. Daniel stopped for a moment, trying to get his bearings. In a moment of rising panic, he realised that he had no idea where he was.
He could hear water lapping dangerously near him, could see dark shapes of cranes and moored ships here and there, and then his heart leapt as he saw a light shining through the mist.
"Come away in, son, an' get warmed up a wee bit."
A cheery big man in a blue gansey beckoned to him from an open door.
Soaked through and exhausted, Daniel stumbled on the doorstep.
A friendly arm was thrown round his shoulders and he was ushered into a room full of the smell of pipe smoke and food. A group of men sitting round a blazing fire and smoking their pipes treated him to a curious glance before turning back to resume their conversation.
A small deal table and a couple of chairs were pushed into a corner. Daniel's rescuer pulled out a chair.
"Sit yoursel' doon, lad, an' I'll bring you some soup." The man in the blue gansey disappeared, returning a moment later with a bowl of broth and a piece of bread.
"Get that into you, son, an' you'll feel better. Let me take that wet jaikit an' pit it at the fire. You're soaked through."
His wet jacket removed, the soup eaten, Daniel felt the warmth of the fire stroke his back comfortingly, and there, at the table, he put his head down on his arms and slept.
He awoke with a start and for a moment couldn't remember where he was. The man in the blue gansey was sitting across from him at the table, studying him with concern.
"It's gettin' late, son. Have you a place to go the night?" he asked.
Daniel looked round the room. The pipe smokers had gone and the fire burned low.
He shook his head.
"Is this a lodging house?" he asked, thinking that he didn't have enough money to pay for lodgings.
His companion laughed.
"It's the Seaman's Mission, son. And though you dinna look tae me like a seaman, you're welcome. You can stay till mornin' if ye havena got lodgings. There's a shakedoon o' sorts ben the back room if ye want it for the night."
There was a mattress on the floor, a blanket and a pillow. To Daniel, at that particular moment, it was the most welcome sight in the world, and he slept a dreamless sleep until roused by the clanking bustle of the clocks.