The Primrose Line – Episode 33
---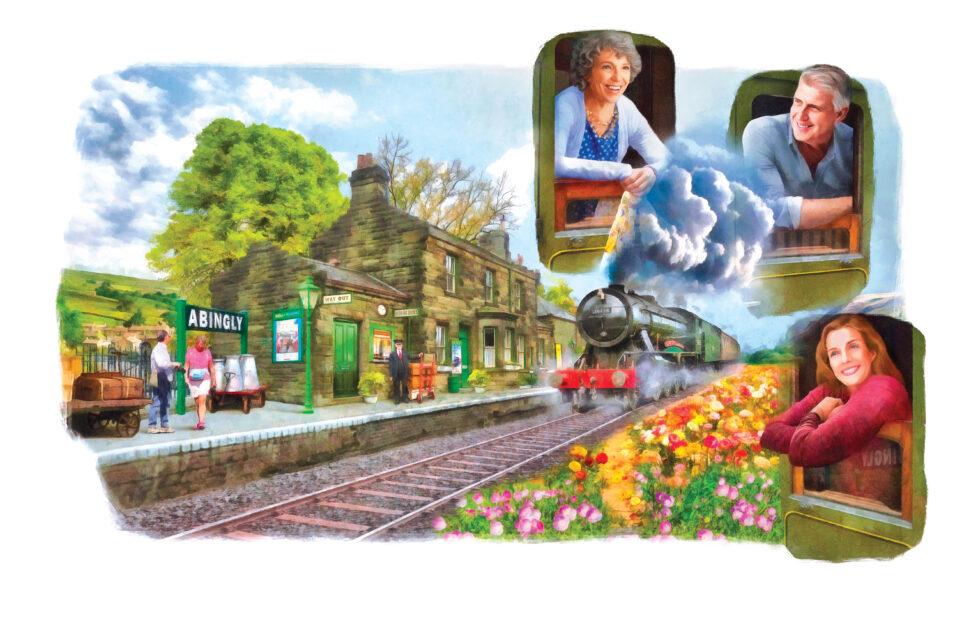 Illustration by Ged Fay
"Grandpa, I don't want to go to Mr Barry's house. I want to stay here with you and go with Nicola on the railway!" Adrienne gave Jim a hug.
It was a child's remark, out of the blue and to the point. Jim was starting to get used to them.
He returned the hug.
"Oh, it's not for long and then we'll be together again." It was difficult to sound neutral when your heart wasn't in it.
"But we came here to be with you, not Mr Barry."
This wasn't easy, especially as he agreed with his granddaughter.
Jim tried again.
"It's someone your mum once knew very well, that's all. They're catching up on old times." Even as he spoke Jim was aware of the hollowness of his explanation. "Not quite so much fun for you, I suppose," he conceded.
"Why do people want to catch up on old times? You can't bring them back."
This hit a little too close to his own reflections regarding Nicola. He tried a different tack.
"Anyway, wouldn't you like to go somewhere you've never been before?"
"No, I like it here. I think Mr Barry is rich and Mummy wants to know how rich. She's not usually nosy like that."
"I'm glad to hear that I'm not usually nosy!" Laura walked into the kitchen. "It's good to be indoors – that old kitchen range throws out some heat!"
"Sudden weather changes like this remind you of the comforts of central heating," Jim said apologetically.
"Oh, I don't know. This place reminds me of the mountain chalets like they were before the world went comfort mad. Sometimes, it's good to get back to the simple things, like Nicola and her steam engines."
"Believe me, they're not simple at all," Jim said, glad of the change of subject. "If you listen to Nicky, they all have characters of their own. She told me a story the other day . . ."
He stopped, worried that his enthusiasm might be misconstrued.
"Anyway, one of the first jobs to do, come summer, may be to get some central heating installed, even if it is the soft option."
"Does that mean you're going to stay here, then, Grandpa?" Adrienne asked.
There it was again! It would take some getting used to, having kids around.
"Not necessarily, my dear little inquisitor, but the house will probably sell more easily with a few basic comforts installed."
"All this doesn't tell me why I might be called a nosy parker," Laura said.
"Because you want to see how rich Mr Barry is, and Emile and I don't care."
"I see."
If Jim had been uncomfortable with Adrienne's opinions, Laura's matter-of-fact reply was just as bad.
Although he'd said nothing previously, he hadn't appreciated her comparing her position with his own.
An old flame had re-entered his life, true, but he and Nicola were both free agents.
Laura was still contracted to a marriage with a responsibility to a young family. There was a world of difference.
Should he point this out or was it stating the obvious? In the past he and Laura had locked horns, often on the subject of Sean Barry. It had taken Helen to calm troubled waters and stop the rift becoming a chasm.
But his wife wasn't here. He was on his own with this now, and was finding the path of non-interference a difficult one to follow.
Worse was to come.