The Primrose Line – Episode 39
---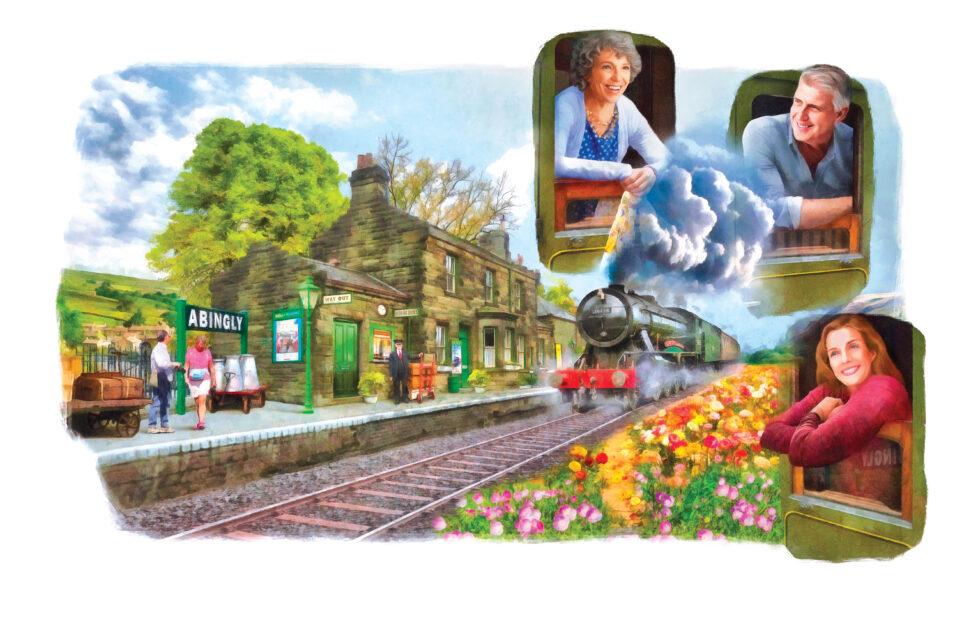 Illustration by Ged Fay
Billy and Nicola stepped down from the footplate of "Schools class" Number 30919, Harrow, and spent a moment in admiration.
They had spent the last few hours checking every minute detail of this acquisition.
It had spent the last six years in the Primrose Line's workshops undergoing restoration, and was now being prepared for its maiden run on the line at Easter.
An awful lot of money had been spent on this locomotive and the debt was still considerable.
Advertising had been intense and it was essential to attract as many paying customers as possible for its first steaming since its withdrawal from the Southern rail networks a half-century ago.
"We can do no more. Now she's got to pay her own way. If all goes well, we'll be back in the black by this time next year."
Billy looked at his
watch.
"Don't you have to get home to meet someone?"
Nicola had confided in Billy about Laura's visit. He already knew of her friendship with Jim.
"I'll walk back with you – bit of support!"
The rail spur where the workshops were situated was a few minutes' walk from the station.
"Thanks, but do you think that I'm needing support?"
"I can't help wondering why she should want to meet with you, unless it's to discuss your future with her father. Sorry if I'm being blunt."
"I know you have my best interests at heart, Billy. If I'm honest, I've considered that. David made his own lack of enthusiasm evident."
Billy snorted.
"Kids! They run your life when they're young and they expect to carry on doing it for ever!"
It was a philosophical observation from a bachelor, but Billy had a point.
Nicola spied her visitors on the platform. If Laura's intention was to discourage her liaison with her father, surely she wouldn't have brought the children?
She walked briskly towards them, with Billy a few hesitant steps behind. Nicola introduced him.
"Let's get out of this wind before we all freeze to death," Nicola suggested. "Anyone up for tea with some scones I baked earlier?
"Then we'd better have a look at your find, Emile. It sounds quite mysterious. We'll cross the tracks here. I live just over there."
"Cool. I've never been on an actual railway line before!" Emile said.
"What if a train comes along?" Adrienne asked anxiously.
Billy chuckled.
"It'll be a miracle. This track isn't connected to the main line yet!"
"I don't see a house."
It was a remark Nicola had heard before.
"There isn't one, as such. I live in an ex-Southern region main-line coach – still in its green livery."
"You live in a railway carriage?" Adrienne's jaw had dropped.
"This gets cooler and cooler!" Emile said, trying to work out how he might get one up the mountain to the new house in Switzerland.
Billy caught Nicola's eye as they stepped up into the coach. There were many ways the children could have reacted.
His look of approval told her he had been won over by theirs.
It was a better start than could have been expected. But it was still only a start.
They went inside and Nicola put the kettle on.
Laura took the model from her handbag. Billy let out a snort.
"Don't need further inspection," he said, "I can see it from here. It's a Merchant Navy tender, and we're missing Clan Line!"
"That's one of the model locomotives that was stolen from the shop," Nicola explained. "Where did you say you found it?"
Emile explained.
"And we've just seen the man that was close by at the time going into the butcher's shop in town."
"Perhaps we should let the police know about all this," Billy said.
"Might be worth having a good look around Corton Wood to see if anything else turns up."
"And to find out who this man is. The butcher didn't seem too pleased to see him," Emile added.
"Oh, Emile, do stop inventing mysteries; it's probably nothing to do with any of this," Laura said.
"We need to get Clan Line back. A tender without a locomotive is like an apple without a core – just ain't right," Billy said.
His unexpected announcement caused everone to stare and he flushed at the attention.
"Tell you what, kids," he added, "when we've finished these scones I'll take you along to see the engine we've been working on.
"It's really hot in here, don't you find?"