The Primrose Line – Episode 47
---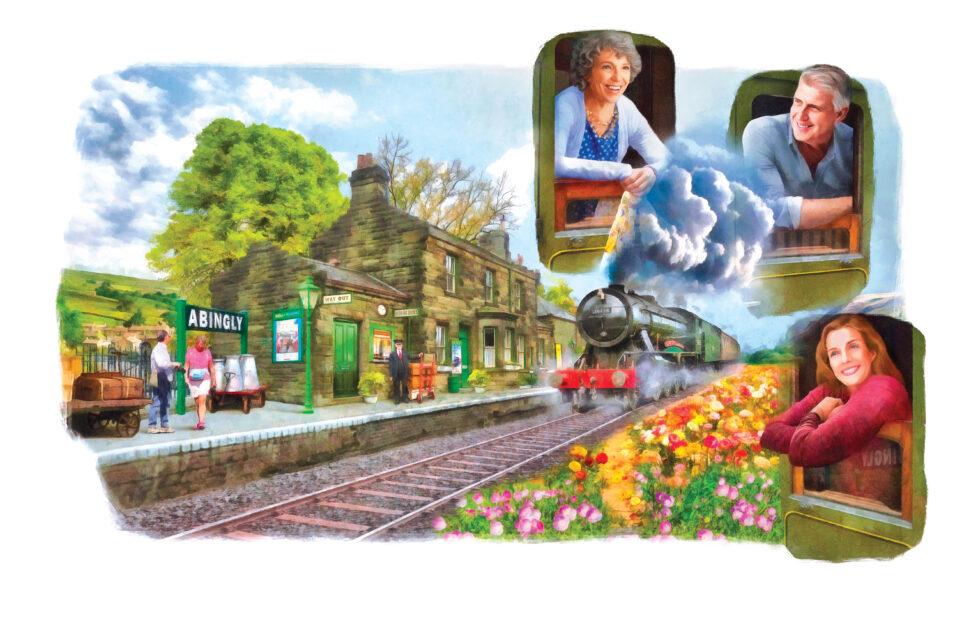 Illustration by Ged Fay
The wind whipped the icy flakes of snow along the platform as Harrow emerged from the short tunnel and sedately approached Abingly station, smoke drifting idly into the grey sky.
A short, sharp whistle warned of its arrival should anyone be too close to the platform's edge, although its final trial run before Easter was witnessed only by Jim, Nicola and Billy Boswell, shivering in the bitter afternoon.
"We'll need a few more people over the weekend if we're going to make any money," Billy muttered to no-one in particular. "The forecast is awful – we can certainly forget about any primroses along the line!"
The engine glided past them, giving them a brief but welcome blast of heat from the boiler as the driver applied the brakes and a powerful, high-pitched squeal broke the silence of the station.
Adrienne and Emile looked down from the footplate under the watchful eye of the grinning driver, who looked like he was remembering his first ride in the cab of a steam locomotive many, many years ago.
"I think you've just helped two children make a memory that will last a lifetime." Jim smiled. "I hope they behaved themselves?"
"Good as gold," the driver assured him. "A bit dirtier, perhaps, than when we started off. It's not the cleanest working environment."
"How'd she run, Mick?" Billy asked anxiously.
"No problems. Good as when she was new. She took the Corton Wood incline with steam to spare. It's just down to the paying customers now, and how many of them we get."
Jim helped the children down from the cab, both still too awestruck to say much about the unexpected ride on the footplate.
Jim turned to Nicola.
"I can't thank you enough for arranging this, Nicky."
She smiled back.
"Doing what I can while I still can. If things change around here then I imagine Health and Safety will change things. Like I told you last night, I can't be part of that."
The two of them watched as Emile and Adrienne wandered down the platform with Billy.
"Have you told Laura yet?"
"No, she's got something else on her mind at the moment. If it's not too late when she gets back, we'll talk tonight."
"And Emile and Adrienne?"
"We'll come to that when the time is right. I think I can make it work."
"Kids' reactions are difficult to predict, especially when disappointment is concerned."
"That's true. There's no easy way, just honesty."
"You know that, whatever the summer brings, I'll still be going to Canada in the autumn."
"You might have to get used to calling it the 'fall' – or is that just American?"
"You've made your decision. Like I said last night, mine is yet to come. Does that make me cynical?"
"No. Practical. And I had some help, too."
She nodded.
"Miss Gurdon's book, did you read anymore last night?"
"Quite a lot. I couldn't put it down. In fact, I think I can see why she left Bluebell Cottage to me, and, I must admit, it's a bit of a shocker!"