The Primrose Line – Episode 53
---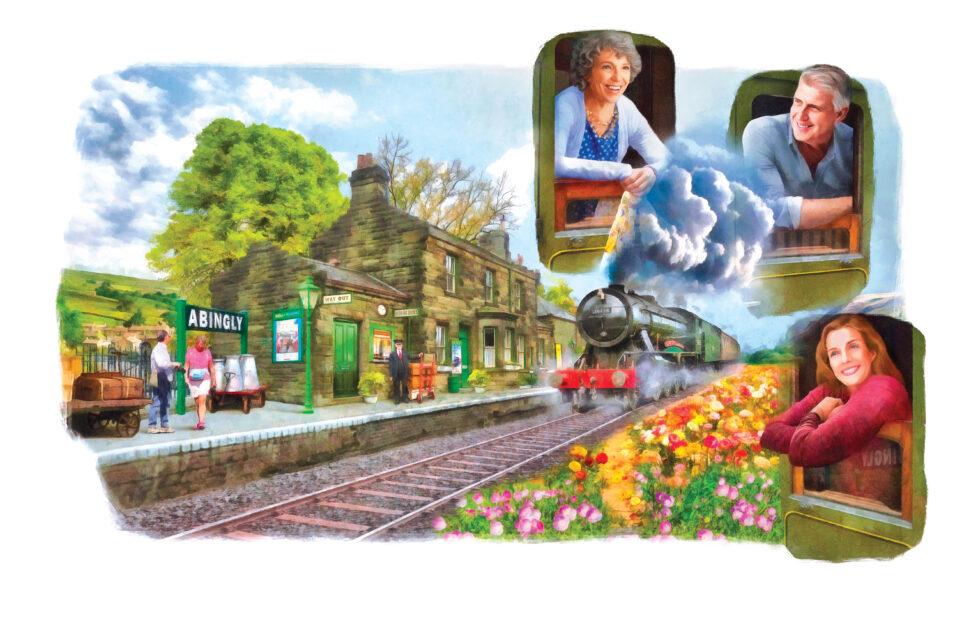 Illustration by Ged Fay
Later, Jim put down his knife and fork as Nicola looked at him intently.
"Well?"
"Delicious. Probably surpasses the Penrith version. Thank you."
"Jim, I'm not here to obliterate memories."
"Of course not. Neither am I. What once was stays the same. What comes next is something else."
"You seem so relaxed. I thought you might –"
"Miss the family? I do, but I'll see them again. I thought a lot on the way back here. Things are clearer, for me, anyway. How about you?"
"Reading the diary has helped enormously. Is that why you wanted me to read it?"
"It depends what you saw in it."
"I saw the beginnings of a great love affair between two people, one that never came to pass."
"We both saw the same thing, then. It's why my mother went off for that time, like she did, and why there was speculation."
"But the speculation never became gossip."
"No, both my father and Miss Gurdon were too honourable for that. Honourable people don't behave badly.
"I can see why we suddenly moved to the Midlands. The relationship between those two was like a seed with the potential to germinate into a beautiful flower."
"But if the beautiful flower is growing where it shouldn't, it could be said that makes it a weed."
"It's an analogy that my father would have understood."
"Some of her words made me want to cry. Despite her restraint, the meaning comes through. Yet no-one did anything wrong."
"The greatest love affair that never was. It's why she left this house to me."
"And why you can never leave?"
He nodded.
"I think Laura knew before I did. I hope she can help the kids to understand."
"I've told the Primrose Line I shall be leaving in September. I'll miss my railway carriage home but Phil Herridge is looking for somewhere to live.
"He's going to work for his father and lodge with him for a while, but I think he's wise to seek independence at the same time. He's really into the railway scene. It could use some fresh blood."
"And your job with the post office?"
"Until the end of the month. All the loose ends are coming together."
"Except one, and only you can deal with that. There's a question I want to ask you, a question I thought I'd never ask another woman."
She reached across the table and put her fingers to his lips.
"Don't ask, Jim, not tonight. It's too soon and I'm not ready. I still need space.
"The summer we'll share will be a part of it but the space will come with Canada, for better or worse. I'll understand if you don't understand that."
"I do. Sometimes love is not enough to overcome all obstacles. It wasn't for my father."
"It makes you think of those two, doesn't it? There's a chance that, in spite of everything, I'll play the safe card and decide to settle in Canada.
"Not because I don't love you enough, but, once, I let my heart rule my head, and I still suffer the memory of that time."
She frowned.
"I'm trying to be honest, but I must sound cynical."
"You're talking to an ex-copper, Nicky. I've always tempered dreams with reality. I can only imagine what you might have gone through. My marriage experience was entirely the opposite."
"We'd both be taking a risk."
"Risky business, life."
"My word, is that the time? And I'm going to have to walk home; we've both been drinking wine."
"Out of the question at this time of night. I'll call a taxi."
She leaned across the table and they kissed in the flickering light from the candle, a kiss that made up for the lost years even if it didn't guarantee a future.
"There is another, simpler solution, although it may complicate things even more."
Jim reached for her hand.
"I'll chance it."