The Secret of Trefusis Cove – Episode 03
---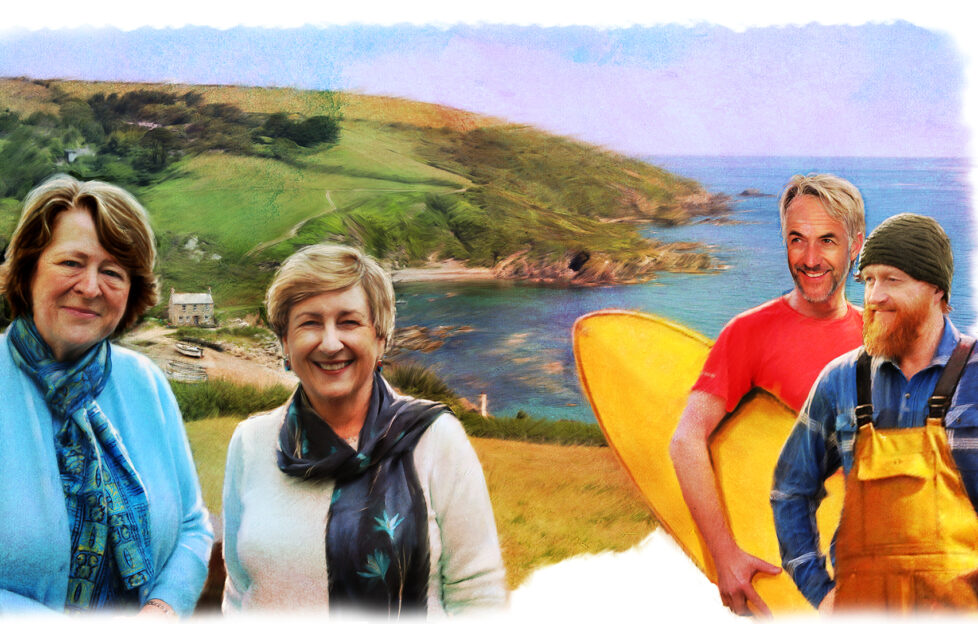 Illustration by David Young.
"We should have an overnight stop in Exminster. We'll be refreshed for the last leg of the journey."
"I'm really looking forward to this holiday." Val grinned. "Sand, sea, fresh air, deckchair, a good book and peace and quiet. What more could we wish for?"
"Not much." Betty put the car into gear. "Cornish cottage, here we come."
"Tangara Cottage – what a romantic name."
"As long as Peter's 'basic' still means comfortable, I don't care how romantic it is." Betty laughed.
They stopped a couple of times for a short break and to have tea from the flask Val had provided. The day was bright and cloudless, perfect summer weather, and they reached the small village of Exminster before dark, in time to settle into their bed and breakfast.
Next morning they rose early and continued their journey through the rolling countryside of Devon.
"Let's have a real Devonshire cream tea," Val said. "Look, there's a lovely place just ahead that sells antiques, too."
"Tea will do. I've enough stuff at home to dust and polish."
They ordered a pot of tea and scones, after which Betty studied the map while Val browsed the antiques.
"Look." Val came towards her waving a small book.
"Another romance to read on the beach?"
"No, it's a book about mermaids. It says most of them have been seen in Cornwall." Val laid the book on the table over the map. "Have a look."
"Silly goose." Betty pushed it to one side. "There's no such thing."
"But it goes into a lot of detail. It's very convincing."
"It's for children." Betty glanced at it then turned back to the map.
"I don't care – I like it." Val sniffed. "We may see a mermaid. Stranger things have happened, you know."
Betty gave her friend a look and Val grinned.
"I know it's daft, Betty, but wouldn't it be wonderful if it were true?"
"You'd certainly make the Countryfile Calendar if you got a photo of a mermaid!"
The last leg of the journey was long and uneventful. They both cheered as they crossed the River Tamar Bridge.
"Do you know, the Romans, when they conquered Britain, never crossed the Tamar. They didn't think there was anything worthwhile on the other side. How wrong they were."
"So that's why it's full of Cornish piskies and mermaids." Betty laughed. "Nothing altered and everything unspoiled. I just hope the roads are up to modern standards!"