The Secret of Trefusis Cove – Episode 11
---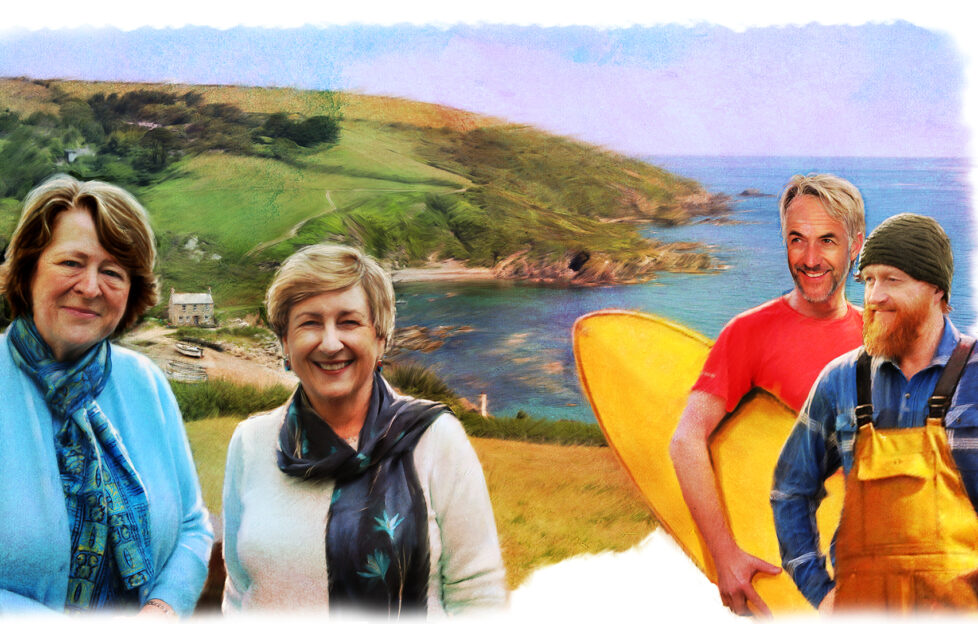 Illustration by David Young.
"We'll get that tin bath down off the wall, Val, and see if it'll fit in the kitchen. At least we'll have a bit of privacy in there."
Betty made her way towards the outdoor privy.
"Give me a hand, please."
Val grabbed one side of the bath. They lifted it easily off the wall and put it down on the ground.
"Eek!" Val stepped back quickly. "There's a spider in it – two spiders!"
"Turn it upside-down and give it a good whack."
It worked, for when they turned it right way up there was no sign of the wildlife.
"Get it inside quickly," Val advised, "before they come back."
It was a tight fit in the kitchen and they had to stand in the bath in order to get to the sink and the cooker, but at least a curtain could be drawn over the whole bathing procedure.
"If we heat up some water in a bucket and stand in the bath with a jug, we could have a shower of sorts and there won't be so much water to deal with when we're finished," Val said.
Betty beamed.
"Val, that's a grand idea and should do nicely. Plus, if we tip the bath on its side afterwards there'll be plenty of room in the kitchen and we won't have to hang it on the wall again."
They spent the afternoon on the beach. The tide came in gently and they swam in the sun-warmed water until it turned again.
Val, a towel around her waist and in her wet swimsuit, photographed shells, seaweed and bits of rock to her heart's content.
Betty made sketches of her in charcoal and planned a watercolour. She sighed with pleasure. She couldn't want more from life than this.
Then the rumbling noise from the night before came back into her head.
"Val!" she called. "Time for a cuppa."
Back at the cottage they changed out of their sandy swimsuits.
"So, what was this plan of yours, Betty?" Val asked.
"We go up to the road and wait until about the time it was when we heard the noise last night. Whatever it was may happen again, then the mystery will be solved."
"It'll be a bit scary."
"We'll hide in the bushes at the side of the road. There will probably be a very simple explanation."
"Suppose it's smugglers! What'll we do?"
"Val, no-one smuggles nowadays." Betty laughed. "We're as likely to see a mermaid as a smuggler. Maybe you should bring your camera."
"I certainly shall."