The Wedding Quilt – Episode 43
---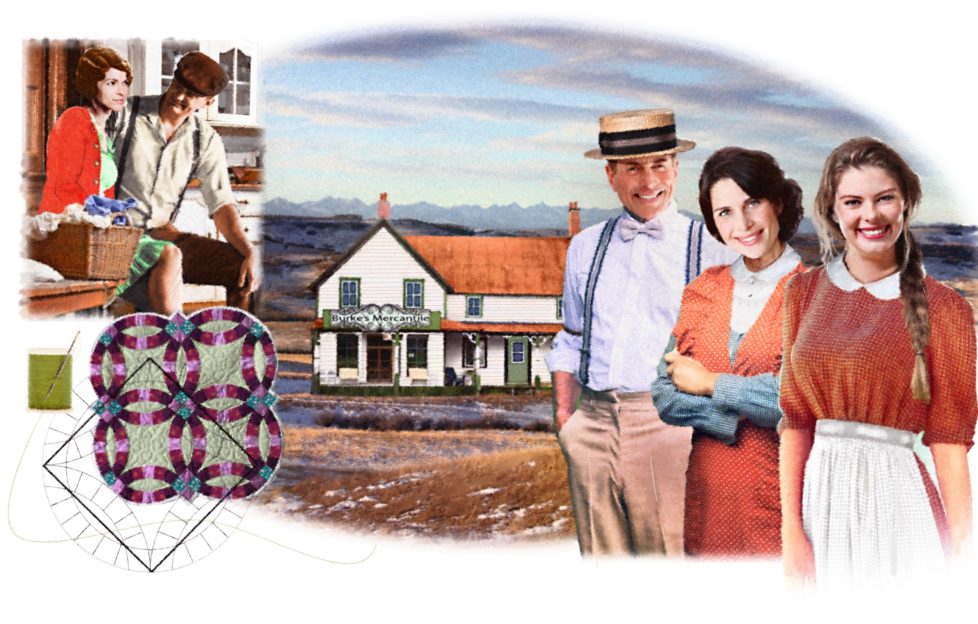 Illustration by Mandy Dixon.
The Carmodys did full justice to Mamie's meal.
Drusilla seemed to have recovered from her fit of pique and she and Beasie rolled their eyes at each other as Stella flirted shamelessly with Frank.
He watched the girl with amusement, as though she were an indulged child, showing off in front of her elders.
The meal over, Matt suggested to the men that they go outside to view his recently planted garden, leaving the women to clear away after the meal.
When Stella rose to her feet to follow, Mamie was ready for her.
"You stay with us, dear. You and Drusilla should get to know each other."
"We must help you with the dishes, Mrs Burke," Drusilla insisted. "You deserve a rest after that delicious meal. It must have taken you all day to prepare."
"Oh, just leave them to soak in the sink for now. I want to show you my quilt."
She produced her work, rolled up in a sheet to keep it clean, and moments later the three girls were exclaiming over the completed top.
The double rings, from which the double wedding ring pattern derived its name, had been pieced in colours of dark green and deep violet, on a background green.
"This is just the top, of course," Mamie explained for Stella's benefit. "It will be quilted in three layers: the batting in the middle, and a backing of deep green to match these pieces here. I'm almost ready now to set up the quilting frame and get on with the stitching. Perhaps you girls would like to help me."
"Why don't you ask Matt to buy you a sewing machine to help you with this?" Stella asked. "It would save you such a lot of time and energy."
Mamie looked shocked.
"Oh, no, dear! That might be all right for a crazy quilt, cobbled together with odd pieces for utilitarian use, but
a quilt like this, a work of art if you like, is always pieced and quilted by hand. It's tradition, you see. A craft handed down through the generations, from mother to daughter."
"What will you do with it when you get it done, Mrs Burke?" Drusilla asked.
"I mean to enter it in the county fair this fall. After that, I don't know. I had thought of displaying it in the store to encourage women to join the club I hoped to start, but I may need to sell it to bring in some much-needed cash.
"I thought your mother might help me with that, Stella. She can surely tell me who to approach in the city."
Drusilla shook her head.
"It's so beautiful, Mrs Burke. It would be such a shame to let it go to strangers. Surely things can't be all that bad now that Mr Burke is running a delivery service? Dad has heard good things said of that enterprise."
"We'll hope for the best, but I don't know what we'll do when winter comes. Brownie will have to go back to the ice man, leaving us without a horse, and even if we bought another, when the bad weather comes we'd have to get runners put on the wagon, or buy a proper sleigh. More trouble and expense, spending money we don't have."
"It's not like you to be so gloomy, Mum," Beasie said. "You've always told me I should never buy trouble. I think you should forget about what might never happen and keep your quilt as a symbol of hope."
Mamie smiled.
"This is a quilt for a bride, you know. It's meant to be spread on her marriage bed. I'll tell you what I'll do – if you three will help me to finish it, I'll give it to the first of you to get married. That's a promise!"
Nodding and smiling, the three girls agreed to take up the challenge.