The Wooden Heart – Episode 29
---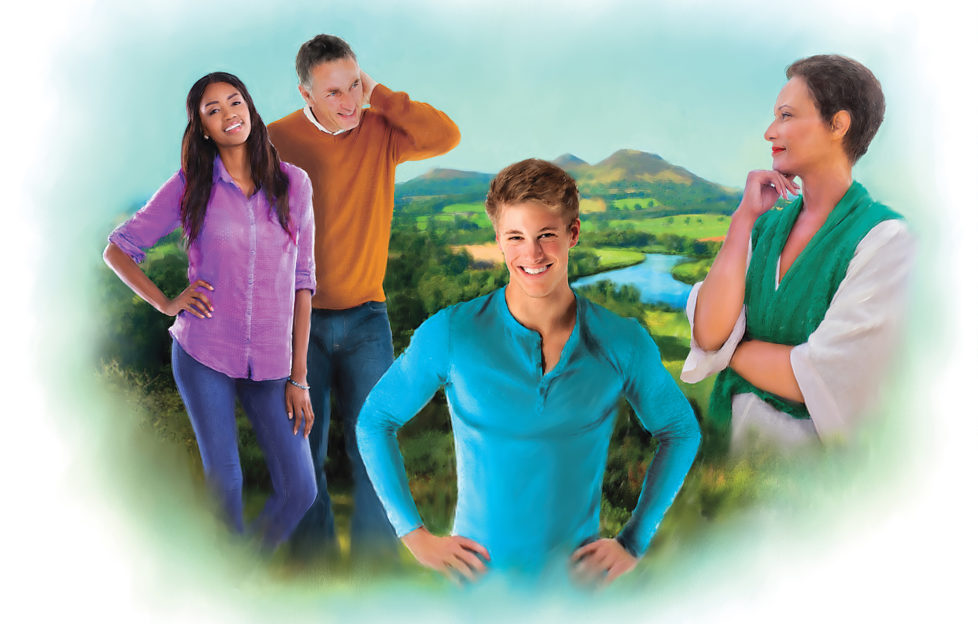 Illustration by Helen Welsh.
It had been a lovely day throughout, Gabrielle thought.
Lunch had been everything Stephen promised: a wonderful soup, fresh-baked wholemeal bread which should have left no room for the slice of home-made cake, yet she had found herself chasing the last few crumbs around the plate.
They had visited Sir Walter Scott's courtroom, then wandered through the different ancient wynds until they found the beautiful Haining Lochside walk.
She had the feeling that they could have visited anywhere that afternoon and it would have seemed as magical.
The sun shone, the summer breeze blew, the birds sang, and every flower in Selkirk was straining to be its best.
There was no need to talk, and nothing much to say, because they were happy simply to be together.
They had wandered round the little market town for over an hour, her hand linked in his arm, before he steered her back to the car and it resumed its maiden voyage.
He didn't drive the main roads she had often travelled, but along highways and byways until her sense of direction was gone, and she was happy just to trust that he would somehow find his way.
"Such wonderful countryside," she said, watching the green hills and fields slide past. "In places it looks as if things have never changed in fifty years."
"They haven't. Not really," Stephen replied. "It's mostly the same families that run the same farms and –" he braked as a blackbird flashed across in front of them "– and the same sheep probably can be traced back to the same ancestral ewes which started the flocks. Likewise the cattle."
He turned, smiling.
"Even the trout who swim in the streams are descended from the trout that swam there when I was a boy."
"Did you fish for them?" she asked.
"Sort of," he replied evasively. "This last road should drop us down into the top end of the village. I'll take you round the square before we go to the cottage."
"That will be lovely," she said. "But I don't want this trip to end."
Nor today, either, she thought.
"What a beautiful little village!" she exclaimed a few minutes later. "I never knew it was there."
"It's been here since time began," Stephen told her. "In some form or another, anyway. Here's the cottage."
He swung up the side track and into the cottage yard.
"There's no sign of Ash," he said. "The car's gone. Her car now."
"Where will she be?" Gabrielle asked, fighting a sudden feeling of trespassing on to someone else's territory.
Stephen switched off the car engine.
"Probably taking more driving lessons from Calum," he said. "Either that, or the two of them will be working in Hawick.
"She has a big exhibition coming up," he explained. "She's building her portfolio. She works in bursts, when the ideas come to her.
"She gets so absorbed in what she's doing, that you can stand beside her and she never notices."
He smiled guiltily.
"I guess she gets that from me – we're both obsessive."
Climbing out of the car, they walked to the kitchen door.
Inside Gabrielle paused.
"The curtains; the flooring?"
"Ash," he replied with a grin. "The new furnishings are down to her."
"She has an eye for it," Gabrielle murmured. "Such a warm and homely kitchen – and look at these beautiful hand-crafted cupboards."
"It's all my father's work. I planned to throw out his stuff and use our own to furnish the house, but somehow, when I got here, I couldn't.
"His craftsman's furniture is all I have left of him. A reminder of the father I scarcely knew."
He shrugged.
"It fits in well. At first I was scared that it would keep his presence in the house, but the shadow that I feared as a boy is gone. Would you like a cup of tea after the long run?"
"Later," she said.
Wandering through the front room, her fingers brushed the table then gently caressed the backs of the chairs.
Somehow Ash had managed to blend the best of the old and the new, she thought. Then she had found the colours for the curtains and the rich tones of the carpet to tie it all together.
"A very gifted girl, this Ash of yours," she said.
"I love her to bits," he said. "Too much, sometimes."
She waited for an explanation of that cryptic comment but none came.
"Now for the high point of the tour," Stephen said, clearly happy to move the conversation on. "Would you like to see my Austin 7?"