Together We Stand – Episode 18
---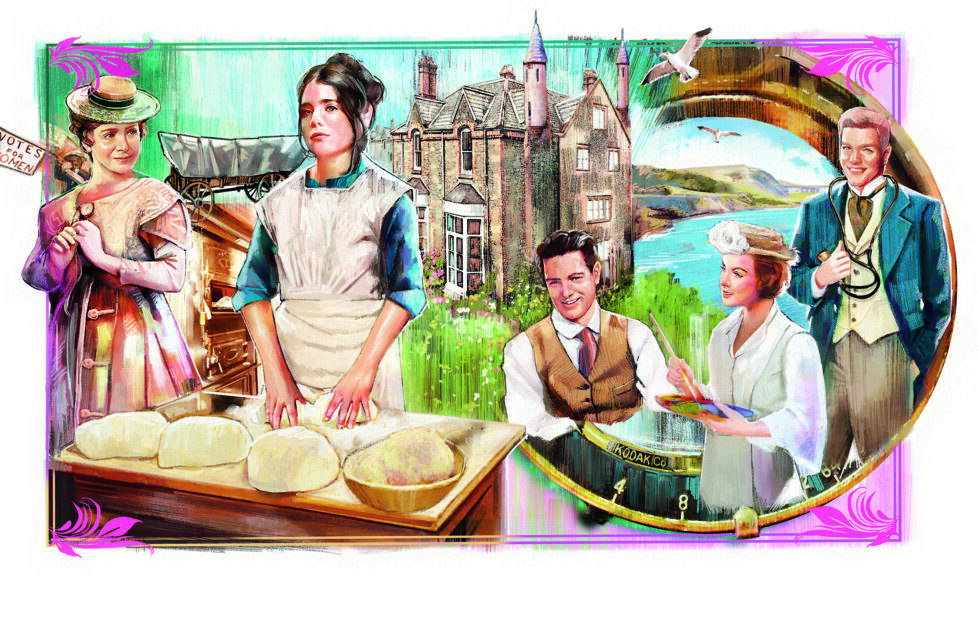 Illustration by Sailesh Thakrar.
"I didn't mean to disturb you," she said, mortified.
"Not at all."
"Please don't get up. I just wanted to let you know that Madeleine is ready to drive me to the studio. And to thank you. I don't know how I'd have got everything down there without help."
"I'm sure you'd have found a horse," he replied with a faint smile. "I can just see the picture wagon rattling its way through the streets. That would certainly be arriving in style."
"That was the other thing," Tanni said anxiously. "I'll arrange to have the picture wagon removed as soon as I can."
"You have a place for it?"
"No. But I'm sure you don't want it here after what happened."
"There's no need. There's plenty of room to keep it safe for now. Besides, if Councillor Banks is intent on making trouble for Mrs Humphries and the tearooms, you may need to move it again."
"Thank you," Tanni replied, unable to hide her relief. "I don't know what I'd do with it, but I don't like the thought of you and Madeleine having to contend with any more intruders."
"There has been no sign of any since. I'm sure it was nothing," he replied. "It'll be safer here. I've had the door reinforced and new locks fitted.
"I have a feeling Mrs Humphries has enough on her plate without worrying about the picture wagon sitting outside the tearooms. I can imagine what Mr Banks would make of that."
Tanni smiled.
"There's an election soon. Hopefully he'll be too busy with other things to worry about the wagon." She met his eyes. "I can guess what he said about me running the studio, even though Madeleine didn't say."
Henry's lips tightened.
"The man's a fool."
"I'm sure he's just saying what everyone is thinking," Tanni said, attempting to sound cheerful. "I'm just going to have to prove them wrong."
"A few respectable customers, and he won't be able to breathe a word," Henry agreed firmly.
He watched as Tanni made her way back to Madeleine, pausing to collect Mr Samuel's camera on the way. For all her defiance, the bounce had gone from her step.
This was a game to Banks: a means of scoring points and gaining the moral upper hand for the benefit of the electorate.
The man had no idea what a young woman like Tanni was risking, setting herself up for remarks and ridicule like that.
In the distance, the Ford rumbled into life, and set off on its careful journey to the tearooms.
Henry pulled himself out of his chair. Lifting heavy equipment might wear him out, but there were some things he could still do, even with this arm of his.
It was time to give Councillor Banks a piece of his mind.