Together We Stand – Episode 38
---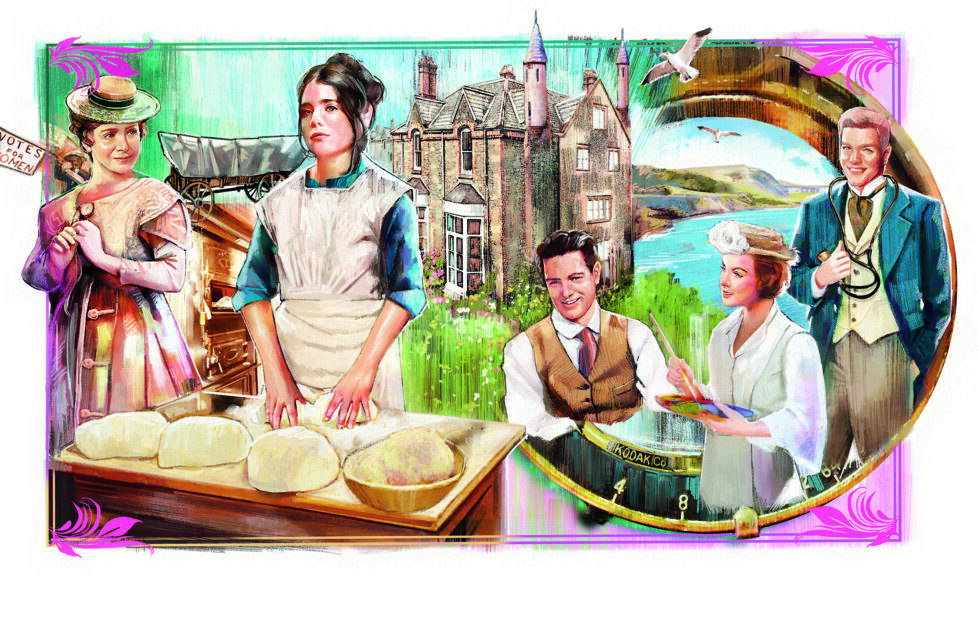 Illustration by Sailesh Thakrar.
Tanni and Madeleine arrived at the tearooms as rain swept in from the sea.
"It's unlocked," Tanni said gratefully, pushing open the door. "Edith and Doctor Evan must have arrived early."
"Thank goodness for that." Madeleine brushed the rain from her coat and caught her breath as Tanni pushed the door closed and turned the key in the lock.
It was dark inside, as the sun vanished beneath a bank of cloud.
"Doctor Humphries?" Tanni called. There was no answer. "He must have gone to open up the basement."
They went through into the studio, which lay in darkness, the shutters still closed, a lamp burning on the far wall. The door to the basement was open, with the warm glow of a light rising up from below.
"We are down here," Edith's voice called, echoing as if from far away.
"We'll come down," Madeleine said. She came to a halt, feeling Tanni's hand grip her arm. "What?"
Tanni put her finger to her mouth, shaking her head.
There was something wrong. She could feel it.
"I left the new set of paper in the hallway. I'll fetch it," she said loudly.
Gesturing to Madeleine to follow her, she made her way quickly back into the tearooms.
"What is it?" Madeleine whispered.
"Are you sure that was Edith?"
"Of course . . ." She frowned.
"Edith wouldn't go down to the basement on her own. She was always nervous of being underground. She suffers from claustrophobia."
Madeleine glanced around, catching Tanni's fear. The tearooms were eerily quiet.
"Evan would have come to meet us the moment we arrived," she whispered.
"Exactly." Tanni increased her pace, heading for the front door. "This feels like a trap. Let's get out of here."
"What's that?" Madeleine hissed.
Behind them came the creak of the stairs down to the basement – first one, then another. The stealthy creak of someone making their way to the top.
They had reached the front door.
"Quickly!" Tanni whispered, reaching for the key, but it wasn't there. "It must have fallen."
They swept the shadow of the floor with their hands, but there was nothing.
"Someone's removed it. We are trapped inside," Tanni whispered.
She grasped Madeleine's arm as the creaking reached the top of the stairs, followed by the tread of steps across the floorboards. The deliberate footsteps of someone who knows his quarry is trapped and has no means of escape.
"Come on!" Madeleine hitched up her skirts and ran into the tearooms, racing up the back stairs towards the rooms above, with Tanni close behind her.
As they reached the staircase and headed upwards to whatever safety they could find, the footsteps behind them broke into a run.