A Dundee Staple: Cheese And Onion Pie
---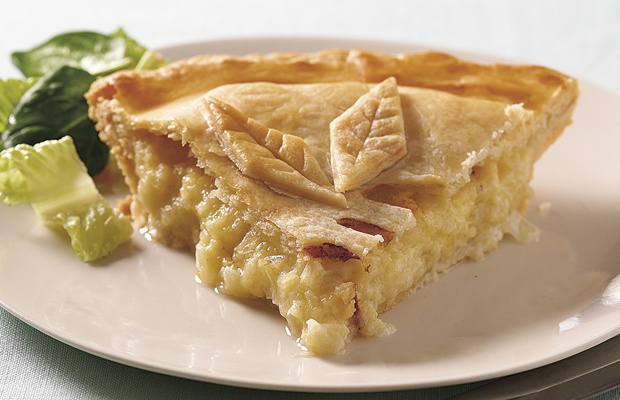 3 large onions, chopped roughly
Salt and pepper to taste
225 g (8 oz) Pilgrims Choice Mature Cheddar, grated
1 x 500 g pack fresh ready-to-use shortcrust pastry
Plain flour, for dusting
1 tbs milk, to glaze
To Serve: salad or cooked seasonal vegetables.
The cheese and onion pie is a staple of bakeries around our hometown of Dundee.
That's why we thought it was high time to give our readers a little taste! Although we dare say this version is slightly healthier than others you might find here in the town . . .
Method:
Cook the onions in lightly salted simmering water for about 20 minutes, until tender. Drain them really well, then mash them with a potato masher.
Stir in the grated cheese and season with black pepper. Cool.
Cut the pastry in two and form each piece into a ball.
Roll out one piece on a lightly floured surface and use it to line a 25 cm (10 in) metal pie dish. Roll out the second piece of pastry to a diameter of about 28 cm (11 in).
Cover and chill the lined pie dish and the rolled-out piece in the fridge until required.
Pre-heat oven to 200 deg. C., 400 deg. F., Gas Mark 6.
Spoon the cooled cheese and onion mixture into the lined pie dish and spread out evenly if filling is not cool enough the pastry might turn soggy.
Dampen the edges with water, then place the pastry lid on top. Seal and trim the edges, then make 2 or 3 small cuts in the centre of the lid for steam to escape.
Use the pastry trimmings to make leaves to decorate the top of the pie.
Brush the surface with milk, then bake in the oven for 25 to 30 minutes until cooked and golden brown.
Allow pie to cool for a few minutes before serving with salad or cooked seasonal vegetables.
And there you have it — a delicious cheese and onion pie, perfect for lunch or dinner!
For more of our top recipes, click here.
And if you find yourself in Dundee without somewhere to eat, why not try a restaurant from this list?