Story Starter: Rusty Wheelbarrow
---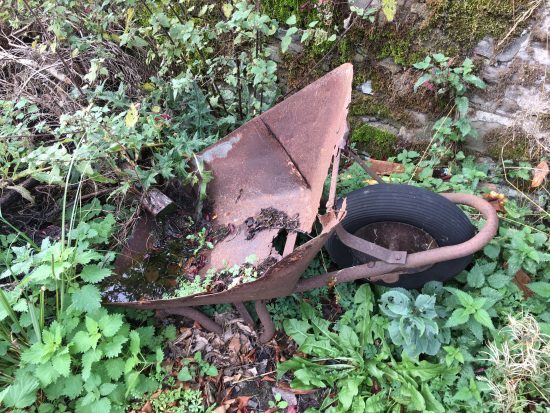 Photo: Shirley Blair
I'm keeping it brief this week. No suggestions; no comments. Though I'm itching to say what the picture makes me think of, it's over to you. Be inspired!
I'm still looking for 2000 or 3000 words, please, in any of our usual genres: young romance, mature romance, period romance, family, twist in the tail, ghost, or general – which is what covers everything else! And remember that can include humour, too.
Oh, yes, our readers like a laugh. Why wouldn't they? They're just women like you and me.
It's a question I get asked at the workshops, if there hasn't been any humour in the magazine for a while. As I tell them, I can only publish what you write me! It's a matter of looking for what you don't see in our content as much as what you do see.
I get asked about male pov, too. And I always answer yes. I really like to see stories from the male pov because they offer a different emotional interpretation and insight.
Limits
What else do I get asked? Well, with talking so much about how we're constantly pushing our boundaries, the natural question to arise is where our limits are nowadays. Divorce and affairs used to be no-nos. So did living together and having children before marriage. Now such themes regularly appear in our stories, though it always has and always will depend on how those themes are written. Remember "feel-good" and you won't go far wrong.
So, the remaining no-nos. Drugs. Sex. Violence. A story about domestic abuse is unpleasant to read and, to me, isn't a subject that should be offered as entertainment. (And yes, I know this no violence rule seems contradictory to our murder/crime mysteries, but there's something different about them, isn't there? And we rarely show the murder on the page. It's about solving the crime.)
Follow your instincts. Ask yourself, would I want to read about this for entertainment in a women's magazine? Your gut feeling will tell you when it's not right for us.
Now, go off and be inspired!
PS  For anyone who's found this blog and thinks, what's going on here, this will explain!