Fiction Sneak Peek, Jan 14, 2017 Issue
---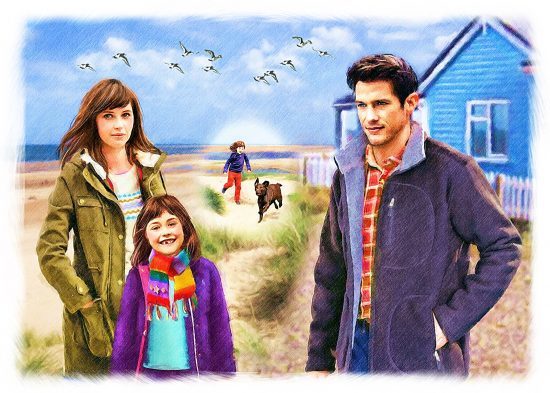 Illustration by Ruth Blair
The first of our latest short story selection is by Annie Harris. Illustrated above, "Into The Light" is quite raw and emotional, about Nick, who, numb with grief, has withdrawn from the world to this idyllic seaside resort. But then he meets little Freya who's determined to draw him out.
You will not be able to turn to our next story and not say "Aaww", unless you're totally not a cat person. It's "The Lost Kitten Club" by Jacqui Cooper, with the cutest illustration by Jim Dewar.
"Family Heirlooms" by Angela Wooldridge is about three sisters musing on the three rings their late mother gave them. But who's the fourth one for? Illustrated by Philip Crabb.
Fans of TV cookery shows will love "La Dolce Vita" about Charlotte, a contestant who's – well, she's letting it all go to her head, to be honest. Cute and fun, this one's by Alison Carter.
"On The Cut" by Donald Lightwood is a different kind of story, about determined Meg, her spirited political views, and how she ends up on a canal barge with brothers Ted and Bill. Set around 1914, this one's illustrated by Mandy Dixon.
Wendy Clarke's written "Every Precious Moment", with Cathy and Dan watching the loving couple at the next table – and remembering when they used to look like that…  Illustration: Ruth Blair.
"The Flower Committee" by Alison Carter takes us – and heroine Hilary – back to 1967, when she worked in a solicitor's office. This one's a clever, sly look back at how archaic men's attitudes were then. We so hope they've changed…!
That's the short stories. Series? In Kerry Mayo's "Be My Guest" there's been an accident and Janey's in charge of the Red House. Alone. With fifteen for breakfast….
In "Life At Langrannoch" by Neilla Martin and Joyce Begg, the whole household are looking for the missing Oscar, while Rory is on quest of his own.  Illustrated by Ruth Blair.
We've got a new serial for you, too, by Mark Neilson. Kirsty's demobbed from the military and starting a new life, which brings her into contact with Helen, a spiky woman who has her own fascinating past. Illustrated by David Young.
And I always leave our weekly soap till last for some reason. This week in Glenda Young's "Riverside", Ruby's big day is here!