Fiction Sneak Peek: Jan 28, 2017 issue
---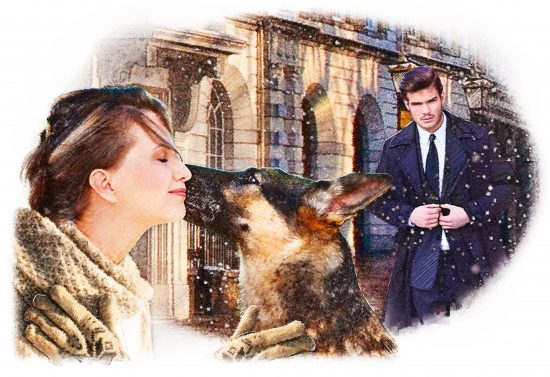 Illustration by Mandy Dixon.
A pet dog story by Teresa Ashby with a gorgeous German shepherd illustration – what better way to open our latest issue? Arnie the Alsatian comes with love-of-Inga's-life Daniel in tow in "Blast From The Past", just the first of our seven stories and two serial instalments this week.
Stories
What's it like when three ex-flatmates try it again thirty years later? That's "Housemates" by Val Bonsall, illustrated by Kirk Houston.
You can tell so much from body language. Well, unless, that is, you're Graham in "A Modern-day Guide To Flirting" by Linda Lewis.
Things have been tough for Sharon lately, so it's kind of understandable when she walks out of the shop without paying….in "Going It Alone" by Pauline Bradbury, illustrated by Mandy Murray.
In "Hitting It Off" by Em Barnard, Olive knows Peg is the right girl for her son. Now she just has to persuade Peg's prejudiced mum. Illustrated by Gerard Fay.
An unused football ticket tucked into a charity shop book starts the ball rolling on a trail that…well, you'll have to read the story to see where it takes Claire. By Glenda Young, this story's illustrated by Philip Crabb.
A family dilemma story next, with Steph glad her son likes his father's new wife…but does she have to be quite so perfect? "Measuring Up" is by Barbara Dynes and illustrated by Pat Gregory.
Series
It's the final part of Janey's Red House adventures in "Be My Guest" by Kerry Mayo. Next week, the Kildartie Singers are back in "On Wings Of Song" by Joyce Begg.
In Riverside, meanwhile, Ruby's made herself scarce, but who else comes to Mary for a sympathetic listening ear? By Glenda Young.
Serials
It's part 3 of Mark Neilson's serial "After All This Time" with, this week, Kirsty and Connor growing closer in their search for Helen's lost love. Illustrated by David Young.
And we finish with the final part of "Life At Langrannoch" by Neilla Martin and Joyce Begg, illustrated by Ruth Blair. It's also a fond farewell to Neilla who I've mentioned died midway through writing this serial. Thanks again to Joyce for completing it so beautifully.