Fiction Sneak Peek: Feb 11, 2017 issue
---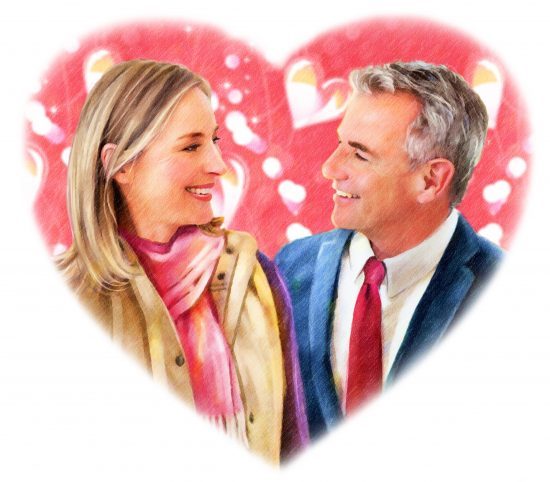 Illustration by Ruth Blair
We have to start with a lovely love heart for St Valentine's Day. It illustrates "Be My Valentine" by Wendy Clarke and gets us in romantic mood!
Ever been to a fortune teller? And were you convinced it was true, or a load of nonsense? That's what the girls are debating in Jacqui Cooper's story "Second Sight".
Kitty has joined the world of the train commuter in Teresa Ashby's "The Daily Grind", but it holds happy memories for her, too. Illustrated by André Leonard.
Ooh, a man with a hobby can be a frustrating thing, as Leanne has discovered in "Waiting For Niall" by Wendy Clarke, illustrated by André Leonard. Another St Valentine's Day story, this one, but perhaps a wee bit out of the ordinary…
"My Extraordinary Sister" by Alison Carter is about a girl and her mother's dreams and ambitions for her – not always a good thing.
"The Ruby Wedding" by Val Bonsall brings together a best man and a bridesmaid who haven't seen each other in forty years. He was scared of her back then. How about now? Illustrated by Jim Dewar.
Mums and daughters always get on, don't they? Or do they? For Cora it looks like being… "A Long Weekend", written by Karen Clarke.
Series
It's St Valentine's Day in "On Wings Of Song" by Joyce Begg, too. But will the day bring joy or disappointment?
There's a big event this week in Glenda Young's soap "Riverside". Let's just say it involves George and Dave Brennan…
Serials
Ooh, it's always an exciting day when we have a new serial beginning, and this one's special because it's short story writer Anne Pack's first for us. It's "Raising The Roof", about a house, the family who live there, and what happens when a film crew descends.
Meanwhile it's part 2 of "A Home From Home" by Rosie Hendry. Phylly and Jimmy have just had one narrow squeak, but they're not out of danger yet. Serials illustrated by Ruth Blair and Mandy Dixon respectively.