Fiction Sneak Peek: Feb 18, 2017 issue
---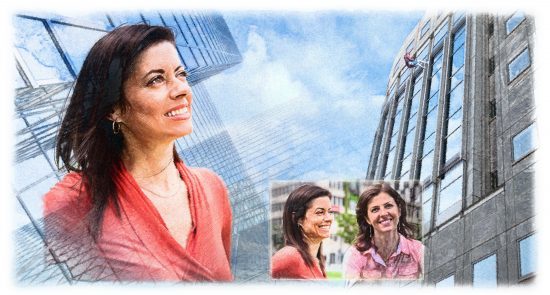 Illustration by Mandy Dixon.
Our latest issue opens with a short story titled "Scaredy Cat", with an illustration that gives you a clue as to what this short story's about. See the figure abseiling down the skyscraper? The story's by Sarah Batten – her first for us, if I'm not mistaken.
"Designs For Life" by Jan Snook is about Kate, and compromise, and "Desert Island Discs"…. An odd mix, but you'll understand it all once you read this thoughtful story, illustrated by Philip Crabb.
I love our next story, "The Art Of Conversation", a sharp observation of friendship by Alison Carter. They say it's good to talk….
Sixties dances – remember those? That's what Penny's doing in "At The Hop" by Cilla Moss, with a clever illustration by Ruth Blair.
A traditional freezing February like we had back in the Sixties is captured in "In The Bleak Midwinter" by Wendy Clarke.
Do you study people's body language? Gemma's friend Mags does and thinks it'll help her choose the right man. Unfortunately that means it isn't Ollie… "Body language " is by Angela Pickering, illustrated by Kirk Houston.
Our final illustration, by Philip Crabb, shows legs, feet and a football, but don't worry, non-football fans. Jean Cullop's story is actually about Alice having a birthday on Feb. 14 and how the birthday cards disguise the absence of one for Valentine's Day.
Serials
Are you enjoying "Raising the Roof" by Anne Pack? Part 2 this week, and the film production is getting into its stride – much to Dave's irritation.
Rosie Hendry's "A Home From Home", meanwhile, has reached part 3, with the girls having to adapt to the assistance of a pair of Italian POWs, difficult for Gracie in the circumstances.  Serials illustrated by Ruth Blair and Mandy Dixon respectively.
Series
It's lovely to have the Kildartie Singers back in Joyce Begg's "On Wings Of Song". There's a secret soprano in town this week!
And in Glenda Young's super soap Riverside, Dave has something to ask Susan… Aaww.
So that's our latest issue, just for you. I hope you enjoy it!