Story Starter: Pink Envelope
---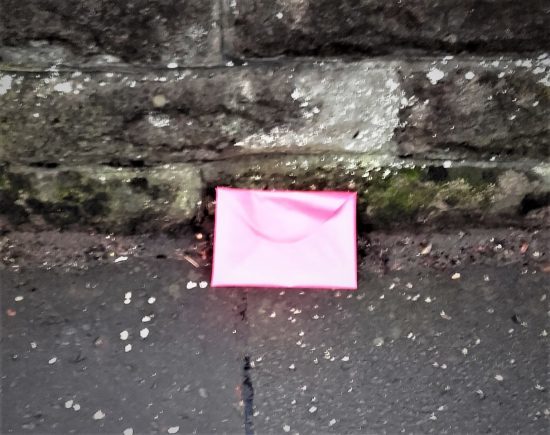 Photo by Margaret Scott.
Has this pink envelope been accidentally dropped? Deliberately posed? Thrown away in a fit of whatever? Bearing in mind that it's a particular blush pink, and St Valentine's Day was this week, it set us wondering.
I say "us" because the photo was actually snapped by my colleagues Margaret (Production) and Alison (Fiction) when they spotted it lying all forlorn on the pavement. They saw it and they thought of me, as they say; specifically, that it could make a good story starter. (I've got the whole office at it.)
Now, your first thought will probably be pink envelope = St Valentine's Day story, but I'll just warn you that if that is what you write, it'll have to wait months till that season comes round for reading/buying, because at the moment I'm reading late spring and summer – which is a lovely escape when it's grey and raining outside. So either be prepared to be patient, or think laterally – that it's a letter, just not necessarily St Valentine's related. It's entirely up to you.
I'm keeping it short this week as I've been very busy and haven't read as many stories as I want to. What I've been busy with instead is organising another two short story writing workshops. Hurrah! I do enjoy them. I enjoy meeting lots of eager aspiring writers, hearing their ideas, seeing them grow in confidence, seeing them get the idea of what we're looking for here at the "Friend". And I enjoy working with the guest writers who join me to talk about the skill and craft of writing and to pass on all the little hints and tips that they've learned over time.
I've chosen two new locations for the workshops this spring: Newcastle, on Thursday, April 27, with Kate Blackadder, and Southampton on Wednesday, May 10, with Alison Carter. I'm trying to choose new locations so that as many writers as possible have their chance to attend. But it has to be somewhere I can get to relatively easily, too, remembering that I start out from Dundee on the north-east coast of Scotland.
The booking form will be in our March 18 issue. Do look out for it, won't you?