Fiction Sneak Peek: Feb 25, 2017 issue
---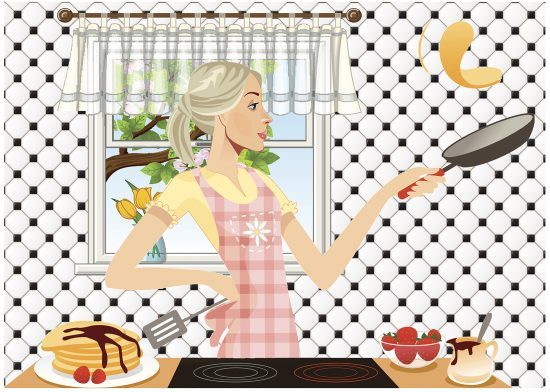 Illustration: iStock
It's pancakes season! If you can drag yourself away from the delicious recipes in this issue, you'll find we're on theme with our stories, too, like "It's Got To Be Perfect" by Tracy Baines.
"Lost Love" by Lydia Jones is a tale of….well, I don't really need to say any more, do I? Illustrated by Michael Thomas.
Ooh, I feel for Anna in "Filed Away". Her husband's bought her a shredder as a heavy hint about having a clear-out. Easier said than done. It's by Angela Pickering, illustrated by Philip Crabb.
Lovely story next, "The Fire Ponies" by Janet Mountford, her first for the "Friend". The ponies are the images Carla can see in the flickering flames of the fire.
A story set in the 1920s comes next. "Love From Auntie Hannah" is a poignant tale by Louise McIvor, about Hannah's sadness over not having children, and how her broken heart heals. Illustrated by Jim Dewar.
The next story has the cutest dog illustration! He's a Jack Russell called Dexter and he has very winning ways. Story by Jacqui Cooper, illustration by Mandy Dixon.
In spite of its floral title, "Daffodils" by Val Bonsall is a story about the power of a cup of coffee! Illustrated by Philip Crabb.
Serials
A lovely wedding scene illustrates part 3 of Anne Pack's story "Raising The Roof", but whose heart skips a beat at the sight of Louise as a bride? Illustrated by Ruth Blair.
It's part 4 of "A Home From Home" by Rosie Hendry, and Mandy Dixon's illustration shows it's treats galore – all the way from America!
Series
A bride-to-be's got cold feet in Joyce Begg's series "On Wings Of Song", while in Riverside, our weekly soap by Glenda Young, Mary screws up her nerve to tell Ruby about another wedding.
Off to try my hand at those pancakes recipes now….