Story Starter: Seaside Shop Window
---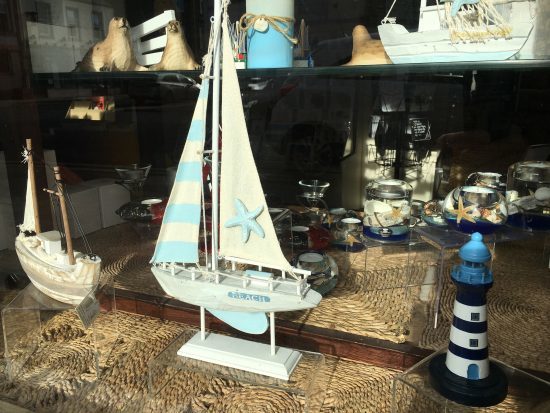 Photo: Shirley Blair
My latest story starter image is a seaside gift shop window in our nearby seafront resort of Broughty Ferry. That's where we take all the lovely scenic beach pics that we put on our Facebook page.
I think I've mentioned before that Dundee is in a very fortunate location. We have the North Sea and dramatic red cliffs of Arbroath just to the east. We have beautiful golden beaches at Broughty Ferry, which is a proper seaside resort with holidaymakers, hotels and B&Bs, gift shops and ice cream stops. And both "the Ferry", as we all call it, and the city of Dundee sit on the banks of our beautiful River Tay.
A quick geography lesson: the River Tay is Scotland's longest river, and the UK's seventh longest. It originates over in the west on the slopes of Ben Lui, and threads its way across Scotland through loch and glen, through Aberfeldy, Dunkeld, Perth and finally Dundee, where it widens into the Firth of Tay, the Tay Estuary and ultimately the North Sea.  It's famous for its salmon. Its disaster: the Tay Rail Bridge collapse of  1879. Its road bridge, still one of the longest (and most elegant) in Europe. Its poet: the incomparable (and some would say incompetent) William McGonagall.
Broughty Ferry even translates from Bank of the Tay in Gaelic.
And is if all that seaside wonder wasn't enough, Dundee nestles in the palm of the glorious Carse of Gowrie, with the hills and glens of Angus rising behind the city. Live in the right spot and you can see Schiehallion from your window.
Now, what on earth does all that have to do with a story starter image of a shop window? Probably not a lot, if I'm honest. Again I guess it just proves how one picture can send your thoughts spinning…
Story Writing Workshops
I'll finish with a note about our workshops which, yes, does connect to the story starter image, because coming up with a story idea from a picture is one of the exercises we include.
I'm doing a shorter spring series this time, only two, in Newcastle on Thursday April 27 with Kate Blackadder, and in Southampton on Wednesday May 10 with Alison Carter. I'm still trying to take the workshops to where aspiring writers might want them, and seeing a good bit of the country at the same time. Though if I keep singing Dundee's praises like this you'll all want to come here to the seaside! The booking form will be in the March 18 issue.