Fiction Sneak Peek: March 11, 2017 issue
---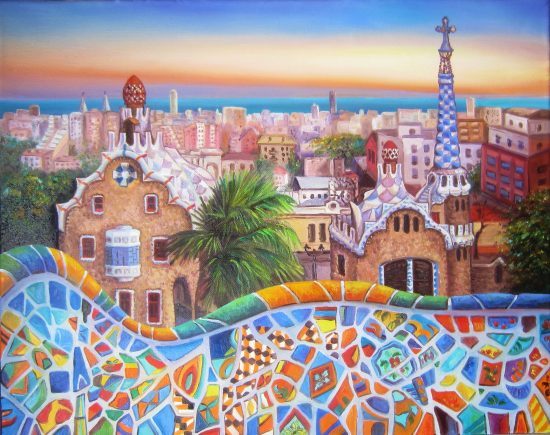 Illustration: iStock
Ah, Barcelona. Vibrant colours, stunning views…This image perfectly captures Teresa Ashby's story "Springtime In Spain", though getting there's a bit of a problem for Denise.
Do I need to describe "The Stand-in Prince Charming" by Annie Harris? The title says so much. If I just add that Lynsey has been invited to her best friend's wedding….It has a lovely illustration by Pat Gregory.
In "Up In The Air", Emma's having second thoughts about her fiancé, Kane, all because of the spectacular birthday gift he bought her. This one's by Ewan Smith.
We're being totally upfront about our latest ghost story, titling it "The Ghost Of Marley Hall". No unexpected surprises there, for the reader, at least. Can't say the same about Jill in the story…. It's by Angela Lanyon, and illustrated by Jim Dewar.
Sorrel is trying to figure out what she really wants from life in "The Big Wide World" by Pauline Bradbury, not realising the answer might be right under her nose. Illustrated by Pat Gregory.
It's a return to schooldays for Imogen, with a classroom bully and a stern headmaster. But it's not all as it seems, in "Aim For The Stars" by Amanda Brittany, brightly illustrated by Mandy Dixon.
"Leaving It To Nature" by Tracy Baines is about Hannah and her mum, a robin and its nest…You might think it's an empty nester story, but no. It's illustrated by Mandy Dixon.
Serials
We have a new serial, beginning this week, and I confess that the "Friend" staff all love it. It's different for us, and so pertinent right now. It's set in Washington, with Brit Ellen trying to navigate the world of a presidential campaign while getting over her own broken heart. "Winner Takes All" is by Jan Snook, and illustrated by Ruth Blair.
I had a lovely reader's letter this week about Rosie Hendry's "A Home From Home", from a lady who was a land girl herself. Our story is bringing back happy memories for her. Part 6 this week, with Jimmy at the centre of suspicious action. Illustrated by Mandy Dixon.
Series
A church choir member seems set on causing friction in "On Wings Of Song" by Joyce Begg, while more dramatic events are unfolding in Riverside, with the police on their way to the Ship. Don't miss our unmissable weekly soap by Glenda Young.