Fiction Sneak Peek: March 18, 2017 issue
---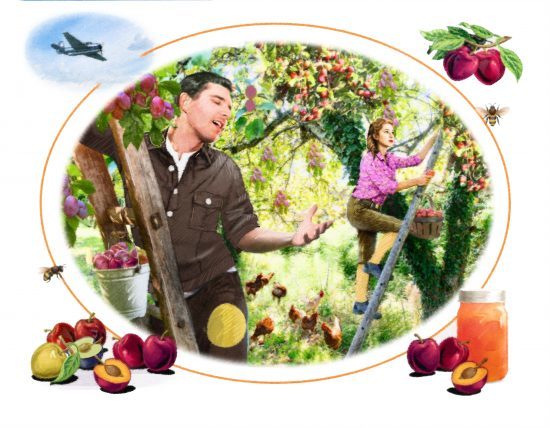 Illustration by Mandy Dixon.
This is the beautiful illustration for the latest instalment of Rosie Hendry's land girls serial "A Home From Home". I love all the little details in this: the scattered plums, the plane, the wasps, as well as the characters themselves. They all come together to tell the story of this week's happenings. And I know Rosie herself is chuffed to bits with Mandy's illustrations for her first "Friend" serial.
And still talking serials, in Jan Snook's "Winner Takes All", Ellen finds her welcome frosty to say the least. Has she made a huge mistake in coming here? We're loving the unusual American politics setting for this one – hope you are, too. Illustration by Ruth Blair.
Short stories
Few of our stories are more traditional than a classic period young romance by Pamela Kavanagh, like "Bridie's Blessing". Wedlock and a family have never come Bridie's way, but she seems to have a knack for directing cupid's arrow among her younger friends. Illustrated by Mandy Dixon.
I wonder what you'll think of our next story, "Spirit Of The Satnav" by Keith Havers? The write-up is "Lilian was gone, so how could Harry be hearing her voice?" and it's written with dark humour!
A total change of mood comes with Ali Loconte's "Ants In My Pants". Marcia's all of a tizz heading for Australia, land of a million insects which she just knows will make a bee-line for her. Trouble is, her insect repellent was confiscated at the airport. Illustration by Sarah Holliday.
The grass is always greener, they say, and for the neighbours in Katie Ashmore's "Peace And Quiet", never a truer word. Illustrated by Ruth Blair.
It's wedding number three for Rosie – no, no, as a guest, not the bride. And everything that could go wrong, has. But every cloud… That's "Get Me To The Church" by Louise McIvor.
We all have our strengths and our weakness. In Annie Harris's "One Good Turn", pals Alison and Ella realise they can trade… Illustration by Ruth Blair.
A kleptomaniac cat called Bella takes the spotlight in "The Cat Burglar" by Kim Fleet. Love Sarah Holliday's illustration for this. Check the cat's ears; he's ready to rumble!
Series
"On Wings Of Song" by Joyce Begg, the choir's diary is filling up. But can you have too much of a good thing?
And in our weekly soap by Glenda Young, all the gossip is about reopening night at the Ship. Oh, and Anna's absent partner. And a wedding date for Susan and Dave. You can't miss Riverside!
Writing workshops
Oh, and just before I go, this week's issue has the booking form for our latest award-winning short story writing workshops in Newcastle, April 27,  and Southampton, May 10. Why not come along?