Fiction Sneak Peek, April 8, 2017 issue
---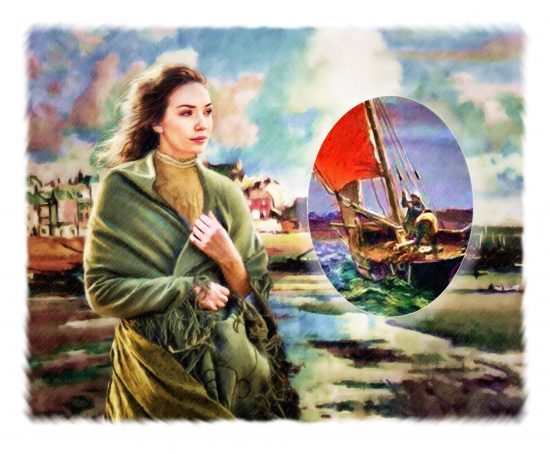 Illustration by Ruth Blair
Gorgeous artwork illustrates "On The Next Tide" by Tracy Baines, our opening story set in the 19th century, a poignant drama about Lettie, waiting at the quayside, the hardest part of being a fisherman's wife.
Val Bonsall has set "Straw Hats And Sangria" in Spain, with offers of friendship all around Emilia – so why does she turn them all down?
Della Galton's story "Tunnel Vision" made us giggle.  I hope it does you, too. It's about Serena and an eye test, with an illustration by Sarah Holliday.
I love Lois, in Meg Hudson's story "Star Turn" – a former music hall star, she's the fascinating kind of lady you'd love to meet in real life. Lucky Carol has her as her neighbour – and she can still work some magic.
In "The Language Of Flowers" by Stefania Hartley we meet again Don Pericle of the Villa Lingualarga, whose niece Nina is arriving for a visit. Will the villa weave its usual romantic spell? Illustration by Helen Welsh.
"The Cottingley Fairies" by Alison Carter is a clever story based on the real-life hoax of 100 years ago, but the family caught up in it are modern to their very busy fingertips. Cute illustration by Sarah Holliday.
A black and white photo of an old cinema is the prompt to a host of memories for Teresa, on the evening that she's going back there for her first visit in a long, long time. "Saturdays At the Rialto" is by Katie Finnemore and illustrated by Sarah Holliday.
Series
It's the Easter school holidays in Kildartie, in Joyce Begg's "On Wings Of Song". But what happens when Lauren can't find a babysitter?
More drama in "Riverside", our weekly soap by Glenda Young. George is furious, but exactly what is it that's got him all riled up?
Serials
In June Davies's serial "The Warmsleys Of Pedlars Down", Eleanor learns more about the family feud. Illustration by Sailesh Thakrar.
This period drama is just beginning, while it's the second last part of Jan Snook's "Winner Takes All". It's all going on: Ellen's in custody while Cindy seems to be getting off scot free. Grrrr. Come on, Tyler, do something! Illustrated by Ruth Blair.
I may be biased, but this is a cracking issue!
Oh, and the booking form for our award-winning story writing workshops is on page 65.