Fiction Sneak Peek: May 20, 2017 Issue
---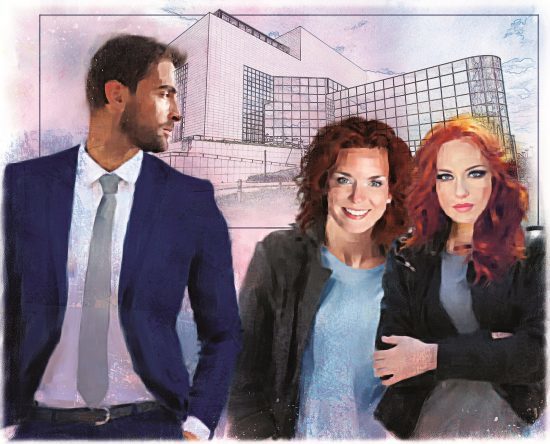 Illustration by Philip Crabb
I like the modern edge to this illustration, with its sketched background behind the more traditional portraiture. How about you? The story is "Like Mother, Like Daughter" by Pauline Bradbury, with Julia fretting about her daughter's crush on an older man. Is he husband material?
With a sumptuous illustration of teapots and creamy dreamy cupcakes, Glenda Young's story "Afternoon Tea" is about inspiration and bright ideas.
Lindy's a tree-climbing tomboy, so you'd think the last thing she cares about is playground rivalry over being the carnival Rose Queen. "Branching Out" by Susan Sarapuk is illustrated by Philip Crabb.
Caroline has just moved into a new house, with a drop-dead-gorgeous single guy next door. Cue giant crush. But can she nurture that relationship as well as she does her new garden? "How Does Your Garden Grow?" by Eirin Thompson is illustrated by Ruth Blair.
We all need a special escape, a thinking place, don't we? Alys has found the perfect spot in "Where Dreamers Dwell", H. Johnson Mack's mesmerising story, illustrated by Jim Dewar.
In Stefania Hartley's "Forbidden Pleasures", Marta is certain husband Giuseppe is keeping something from her…
And on that theme, a husband and wife support each other through anything and everything, don't they? In "Escape To The Hills" by Deirdre Palmer, Carl has been Beth's rock. Now it's her turn… Illustration: Philip Crabb.
Serials
It's part 2 of "A Year In France", our lovely new serial by Jennifer Bohnet, set between France and England. Well, not exactly between because that would be in the middle of the Channel, but you know what I mean. This week: Maddie takes in a stray. Girl, that is. And in France, Julia's wondering if her new life with her new husband is going to be quite as idyllic as she thought.
And it's the concluding instalment of June Davies' "The Warmsleys Of Pedlars Down". Will it all work out happily? Serial illustrations by Mandy Dixon and Sailesh Thakrar respectively.
Series
It's Kildartie Gala Day in Joyce Begg's "On Wings Of Song" with the choir bursting into a particularly apt song.
And it's all kicking off in our soap "Riverside". Some guy has Dave by the throat. Jim's stood up Anna. You have to read it. By Glenda Young.