Fiction Sneak Peek: May 27, 2017 issue
---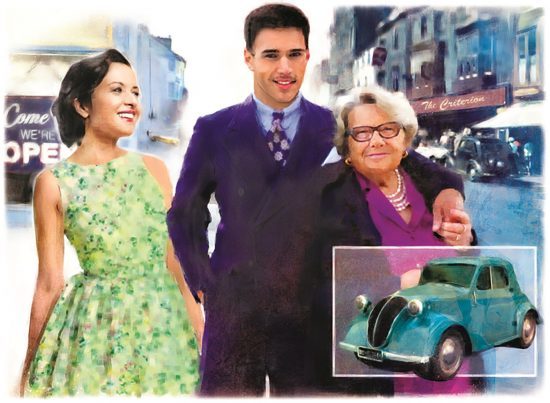 Illustration by Philip Crabb.
A new serial starts this week, illustration above, titled "Happy Days At The Criterion". The Criterion is a traditional Italian café and the story's set in the 50s. It's by Francesca Capaldi who I'm delighted to introduce as a new writer to our pages.
This is actually another of the serial competition entries from, gosh, 2015. This one was short-listed. We then went back to Francesca to work with her on developing it fully. I hope you enjoy it.
And while we're talking serials, it's part 3 of Jennifer Bohnet's summery "A Year In France". This week, Maddy follows Julia's lead and makes a life-changing decision. Illustration by Mandy Dixon.
Short stories
This issue opens with an idyllic cricket-on-the-village-green scene for a story by H. Johnson Mack. But the village rivalry is over more than just the cricket. Scones, anyone? Illustration: Ruth Blair.
"Fat Cat" by Celia Kay Andrew is about – well, I don't really have to tell you. The question is, how come GT's still piling on the pounds even on his diet? The answer's not as simple as you might think. Cute cat illustration by Martin Baines.
How's your time-keeping? Charmaine is chronically late, and yet Tom just keeps putting up with it in "Flights Of Fancy" by Tracy Baines. After all, the excuses can be so entertaining! We first meet him waiting for her yet again in their usual cafe. Illustrated by Ruth Blair.
In "The Italian Inquisition" by Joan Cameron, it's time for Mum to tell her family that she's moving to Italy. To enjoy the continental cafe culture – and to be with Giovanni… Their reaction's kind of what she expected. This is Joan's first story for us, and it's illustrated by Jim Dewar.
I do like Sarah Holliday's illustration for our next story. It sets the scene so well, of the American west in the 19th century where Betsy dreams of a life beyond the boundaries of her father's ranch. That's "The Far Side Of The River" by Shona Partridge.
In "Hidden Treasure" by Jessma Carter, at first glance the treasure seems to be the ring little Myra finds on the bric-a-brac stall. But treasure can also lie in friendship, love, dreams…. Illustration by Sarah Holliday.
The final short story this week is "The Rusty Wheelbarrow", which Jenny Worstall wrote in response to one of my Story Starter images. Mandy Dixon has illustrated this fun but thoughtful story beautifully.
Series
In Joyce Begg's "On Wings Of Song" Terence and Hazel have a weekend away – at separate destinations.
And our weekly reading wouldn't be complete without "Riverside", our must-read soap by Glenda Young. Remember the dodgy guy threatening Dave? George takes the law into his own hands.