Story Starter: An Email And Little Acorns
---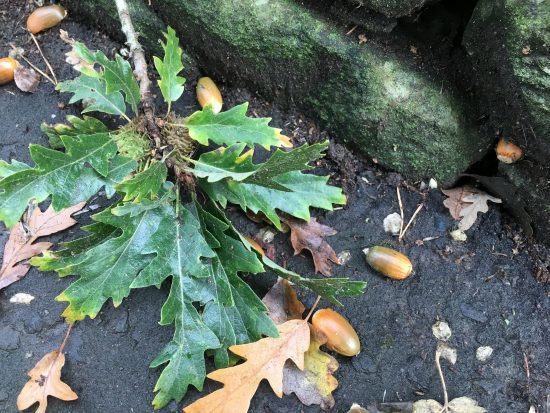 Photo: Shirley Blair.
I'm going to start this post by quoting from an email I received this week. It's from a reader.
"I have been reading your magazine for about a year now, but am getting sick to death of reading stories about widows and widowers. My husband and I have been married for 53 years, I am 74 and he is 78. We do not want to think of the day when one of us might be on our own; it's too horrible to think about. We live life to the full and take every day as it comes. So could you have fiction stories about older people like us, please?"
And as I said in my email back to her, I couldn't agree more.
As those who have attended one of our writing workshops know, I bang on at length about portraying older characters as they are in real life now. Readers who are 70 had their teenage years in the late Fifties/early Sixties. Think of the music they were listening to then. The Everly Brothers. Elvis Presley. Chuck Berry. Lonnie Donegan. Not Glenn Miller and Vera Lynn. They didn't grow up in the war years. At 70, they were 20 as 1967's Summer of Love changed the music world. At 60, teenage years were spent at discos.
So that usually constitutes part one of my rant. Part 2 is about widows and widowers and the death toll in our stories. I've long thought it must be terrifying for an older reader – and this lady's email bears that out. Oh, and email, note, not lavender scented letter. Another misconception is that "older people" are technophobic with no idea about mobile phones, email, texts….
But back to that widowhood. I understand that sometimes you want your female character to have to rely on her own resources and deal with things solo. But be creative. If she's mid-60s, her husband might work away. A lorry driver. On an oil platform. A war correspondent. Not everyone retires early. Older, and he might be away on a course, a summer school, or a golfing holiday with his buddies. She might be divorced, or separated – and yes, hands up, I know this was a no-no for so long with us, and that's how the widowhood last resort resulted. But we've moved on and you need to, too.
While we're on the subject of thinking differently, can I also put a temporary ban on inherited cottages?
OK – rant over. Phew.
This week's story starter image shows some nice little acorns for autumn….