Fiction Sneak Peek: June 3, 2017 issue
---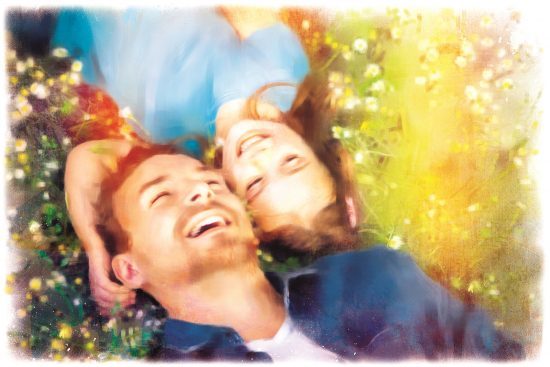 Illustration by Philip Crabb.
Can't you just hear the giggles between these two? They're Daisy and her dad and they've arrived in Derbyshire at well-dressing time. It's all part of their new village life, but how will they adapt? This touching story, "Picture Perfect", is by Lilian Butterwick.
You can rely on John Kenworthy for the off-beat humour of his stories. And talking of relying on folks, Harold Wharton's cricket team buddies are relying on him to lose the match! You'll have to read "Opening The Innings" to find out what's going on there. Illustrated by Kirk Houston.
Cute baby pic alert! Mandy Dixon's illustration for "A Slip Of The Tongue" by Stefania Hartley is just….aawww. And the story? It's really clever and fun, about a new mum, a noisy neighbour and their violin.
We step back to the Queen's special day in Keith Havers's in a clever story with lots of memories. That's "Coronation Day".
Wendy Clarke found inspiration in one of my Story Starter images for "On The Shore", with Gran living at Beach House and doing her best to comfort her granddaughter through an emotional crisis. You know what grandmas are like; a swim in the sea should do it! Illustration: Mandy Dixon.
The turning tide is the metaphor for another emotional crisis in "Looking Back" by Annie Harris, illustrated by Philip Crabb.
A guardian angel in a pink sports car is the helping hand Aimee and her mum need in "Our Fairy Godmother" by Joanne Fox, illustrated by Mandy Dixon.
Series
First-night nerves strike in "On Wings Of Song" by Joyce Begg.
In "Riverside", Mike has a surprise – or should that be mega-shock – for Dave. You can't miss our weekly soap by Glenda Young.
Serials
"Happy Days At The Criterion" by Francesca Burgess is only three parts and we've reached part two already. This week, Renzo's there for Gwen as she faces her fears. Illustrated by Philip Crabb.
Philippe is changing Julia's life in so many ways in "A Year In France" by Jennifer Bohnet, while in London, Maddy's transforming Dannie's life, too. Illustrated by Mandy Dixon.