Fiction Sneak Peek: July 1, 2017 Issue
---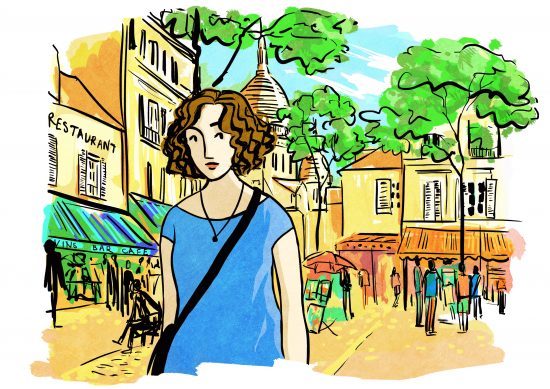 Illustration by Sarah Holliday.
Our illustrator Sarah created this brilliant illustration to capture the arty theme of Margaret Skipworth's story "Back In Montmartre". It's about a widow – I know, I know, it snuck in before the ban! – returning to Paris to relive special memories. It is a lovely positive story, even given she's a widow.
That's the second of our stories this week. The first is "Friends Reunited" by Susan Reynolds, about Georgie and Sadie, childhood friends and just back in touch – but why now? Illustration: Mike Heslop.
A gentle, lyrical story next, by Lydia Jones, titled "The Scent Of Lavender", illustrated by Sarah Holliday. The scent surrounds a young mum-to-be, protecting her, promising happiness.
In "Half-Term With Henry" by Pamela Wray, Henry is Daniel's fuddy-duddy uncle with whom he has to spend the school holiday. Rotten luck, he thinks, but Uncle H. has surprising hidden depths! Illustration: Helen Welsh.
Jilted practically at the altar, Emma's wallowing in self-pity in a cottage in Cornwall. The first day of her new life? She just wants her old one back, thanks. But then she picks herself up, dusts herself off, and finds an unexpected friend in Lyle… "It's A New Day" is by Susan Blackburn, illustrated by Mandy Murray.
I guess it was a bit tactless of us to follow Emma's story with one about a wedding…."Happy The Bride" by Wendy Clarke is a story about a bridal gown crossing the generations.
You know, sometimes it's only when I write this sneak peek that I realise I got stuck in a theme when I was choosing the stories, because guess what the next story's about? Yup, a wedding. I must have been feeling romantic. This one's "Shall We Dance?" by Celia Kay Andrew and is a story about what might have been. Illustrated by Ruth Blair.
Series
All we need now is for the Kildartie Singers to be singing at a wedding….but no, in Joyce Begg's "On Wings Of Song" they're off to the seaside!
In "Riverside" meanwhile, Mary's dealing with the aftermath of Ruby's blabbermouth moment. Our unmissable soap is by Glenda Young.
Serials
"Northern Lights" by Betty McInnes is a classic "People's Friend" serial: Scottish setting, a family at its centre, with a strong woman, Lilias, at the helm. And of course it has that fascinating historical backdrop of the construction of the Bell Rock Lighthouse, which lies just 11 miles east of Dundee, home of the "Friend". I hope you're enjoying it. Illustrated by Ruth Blair.
We've reached the final part of "A Year In France" by Jennifer Bohnet, with – can you believe it – another wedding! But Julia still has the mystery surrounding her mother to resolve, too. Illustrated by Mandy Dixon.