Fiction Sneak Peek: July 8, 2017 Issue
---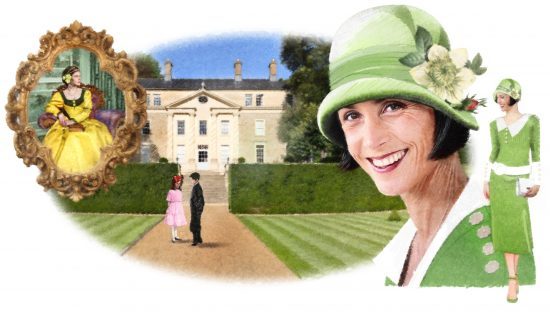 Illustration by Mandy Dixon.
I'll start with a traditional illustration for a traditional style of story. Because, after all, in a magazine that's almost 150 years old, tradition is still very important. It's "The Lady In Lemon" by Em Barnard, set in 1935, about a portrait and the lady who bids for it….and why.
How would you cope with living in Spain? All right? Ah, but how about not being able to get a good traditional cup of English breakfast? That's the dilemma in "The Cup That Cheers" by Glenda Young, illustrated by Mandy Dixon
What will Gran say? That's Jen's dilemma in "A Cover Up" by Pauline Bradbury, illustrated by Philip Crabb. But what is it she's done?
A fox amidst the chickens sets Susie on the warpath in "Girl Power" by Kate Finnemore, illustrated by Kirk Houston.
I've a great fondness for Suzanne Ross Jones's Cat Café series. A lot of that has to do with the characters of Maxine and Angus. Everyone can see they're made for each other. Everyone but them, that is. We pay them another visit in "Counting Blessings At The Cat Café."
Kay knows a house has to feel right when you're thinking of buying, but really, will there ever be any pleasing Jake in "It's Got To Be Perfect"? By Della Galton, it's illustrated by Kirk Houston.
In "Fifty Today" by Jacqui Cooper, Maria's hit that age when she feels she's become invisible – but that doesn't explain why her neighbours have become less friendly…
Serials
I got a lovely email from Louise McIvor this week, chuffed to bits to see her first serial starting in the "Friend" this issue and featured on the cover. In "The Mystery Of Anna Grace", it's a new start for Charlie, though she's learning there's more to the hotel business than meets the eye. The illustration's by Kirk Houston, and Louise says Charlie and everyone else look just how she'd imagined.
From a first-time serial to "Northern Lights" by Betty McInnes, one of our longest serving writers. I hope you're enjoying this traditional Scottish family story, set in Arbroath, just up the coast from us here in Dundee. And it's beautifully illustrated by Ruth Blair.
Series
Lizzie's asking herself a question in Joyce Begg's "On Wings Of Song": is it modern music she objects to, or just the volume it's played at?
And finally, it's karaoke night at the Ship in "Riverside", our unmissable weekly soap by Glenda Young.