Fiction Sneak Peek: July 15, 2017 issue
---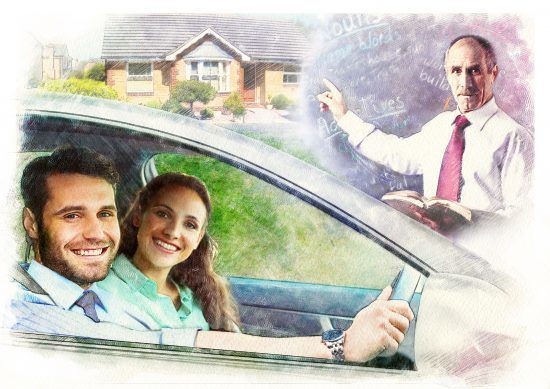 Illustration by Jim Dewar.
Wendy Clarke opens this week's issue with her story "One Of Many". Ryan goes to visit a schoolteacher he's never forgotten, but will Mr Govern remember him?
Oh, but I know how Meryl feels in "Summing Up". She's never been any good at maths, you see…but suddenly it seems like things might finally add up! Susan Sarapuk's story is illustrated by Sarah Holliday.
Louisa Heaton is one of our newer writers, and "Alongside Mother Nature" is only her second story for us. It's poignant and pensive, a satisfying read about loss and discovery. Illustration: Kirk Houston.
A sumptuous romance by Wendy Clarke comes next, illustrated by Jim Dewar. In "The Last Kiss", it's Ben who tells the story of the first time he saw the girl who lodges in his heart.
I wonder what you'll think of "Upstairs, Downstairs" by Joanne Duncan? It's set in the 1920s and we've tried something different with our illustration by Sarah Holliday to reflect the fun theme about Ellen and her casual attitude to etiquette and rules.
And to contrast with the fun of that, our next story, by Kim Fleet, is about a wife and her secret stash of running-away money, as advised by her mum just before her wedding. Linda assumes she'll never need it, of course, but things can change… Illustration: Sarah Holliday.
The next story's fun, about the bottle of wine Faye takes to the first party of the summer….By Val Bonsall, with a little snippet of what inspired the story, too, it's illustrated by Sarah Holliday.
Serials
It's part 2 of "The Mystery Of Anna Grace" by Louise McIvor. In this issue, who's the boy in the barn and where's he come from? Illustration: Kirk Houston.
And in "Northern Lights" by Betty McInnes, our atmospheric serial about the building of the Bell Rock Lighthouse, although Maggie has never set her sights too high, things are going to change.
Series
In "On Wings Of Song", our series by Joyce Begg, Lizzie's son Adam gets one over on a playground bully.
And don't miss the latest goings-on in our soap. Fame beckons for Mike and his baking in "Riverside" by Glenda Young.