Fiction Sneak Peek: July 22, 2017 issue
---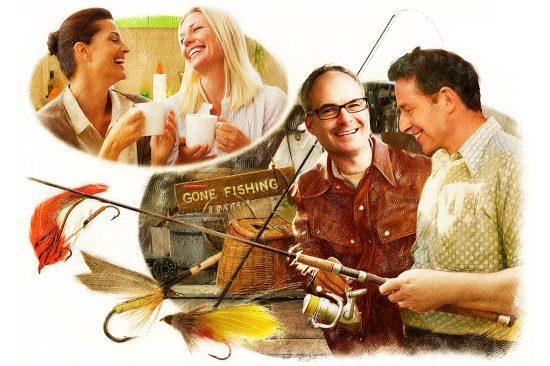 Illustration: Jim Dewar
We begin with "Life Swap", which is tagged on the cover as a role-reversal comedy. Marjorie and Brenda's husbands thinking packing for a holiday is a piece of cake… Deborah Rogers's first story for us is set in the 1970s when that kind of stereotype was more accurate. We know that 2017 men are completely up to all domestic challenges!
Our next story by Glenda Young manages to make fun out of our Great British weather, with poor weather girl Diane's mood seeming to match the gloomy skies…. "Whatever The Weather" is illustrated by Sarah Holliday.
"The Garden Room" has a sweet little illustration that perfectly captures the mood and theme of this insightful story by Deirdre Palmer.
Working extra hours is a necessity of modern life for some families. But it can take its toll, as Andy and Clare are learning in Karen Clarke's story "Time Management", illustrated by Ruth Blair.
Underhand shenanigans at the annual village fete: that's "The Marquee Mystery" by Angela Lanyon, illustrated by David Young.
We're enjoying the lighter side of life this week, because the next story is by John Kenworthy and pays another visit to Groanside. Willie Dawkins' wife thinks it's time he found a hobby to get him out of the house –­ and out of her hair. Illustrated by Ruth Blair.
And in "A Quiet Weekend" read how a problem on the railways affects Bella's Friday night plans. And no, it's not because her train was cancelled. Ewan Smith's story is illustrated by Philip Crabb.
Series
In Joyce Begg's "On Wings Of Song", a mystery voice charms Lizzie and her neighbours.
And there's a surprise visitor at the salon – though maybe that should read shock visitor, judging from the reaction – in "Riverside", our unmissable soap by Glenda Young.
Serials
Things seem to be going well for Charlie in "The Mystery Of Anna Grace", by Louise McIvor. But how long can that last? Illustrated by Kirk Houston.
Meanwhile in "Northern Lights", our fascinating historical story by Betty McInnes, two young men are warring over Maggie Cargill. Who would have thought it? Illustration: Ruth Blair
I hope you enjoy all of this week's reading. We choose it specially for you, you know!