Fiction Sneak Peek: July 29, 2017 issue
---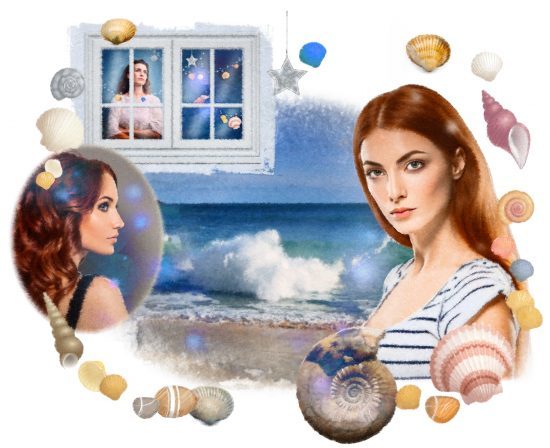 Illustration by Mandy Dixon.
I wonder if you can spot our different illustrators without looking at their pic credits? I reckon you can, particularly where Mandy Dixon is concerned, because she always brings something especially creative to the way she illustrates our stories. Here's another example, with her representation of "The Shell Girls" by Jean Cullop. The write-up for this one reads, Lexi and I used to have so much fun together. Then, one day, she was gone…
"Head Over Heels" by Alyson Hilbourne features Chloe, proud of not needing a man in her life. But doesn't pride come before a fall? Illustration: Michael Thomas.
Tony Redcliffe writes "Mr Johnson's Journal", set in 1881 about … well, the title says it all, but trust me, it's more fun than it sounds! Illustration: Ruth Blair.
A creative illustration of a paint palette by Sarah Holliday cleverly captures the delicate, poignant mood of Mhairi Grant's story "The Artist's Eye" about love and thankfulness.
"Ginny's Neuk" by Joan Cameron, just her second for us, is set in 1964, as the world begins to modernise – though it seems to have left Ginny's moorland home behind. Illustration: Sarah Holliday.
In "Patching Things Up" by Wendy Clarke, Franny's fed-up with her made-do-and-mended home. It would be so nice to have somewhere neat and new. But how can she get husband Kevin to agree? Illustration: Jim Dewar.
I loved our next story as soon as it came in from Julia Douglas. On the cover we describe it as a sparkling comedy, and it's made us giggle. "Down The Aisle" is set in a supermarket with Lilly taking over the Tannoy…
Series
A family holiday results in an unforgettable experience in Joyce Begg's "On Wings Of Song", our light-hearted series.
And in "Riverside", our unmissable soap by Glenda Young, Anna's sister has finally turned up. But why?
Serials
Charlie's on the trail of the missing journals in "The Mystery Of Anna Grace" by Louise McIvor, but Harriet has a different target in her sights. Illustrated by Kirk Houston.
And we're nearing the conclusion, next week, of "Northern Lights". This has been a classic "People's Friend" story by long-time favourite Betty McInnes with its Scottish setting and fascinating Bell Rock Lighthouse history. Like Mandy, she always brings something especially creative to her stories. Last week we left the men on the rock, with the tide rising and their boat adrift… Illustration: Ruth Blair.