Fiction Sneak Peek: August 12, 2017 issue
---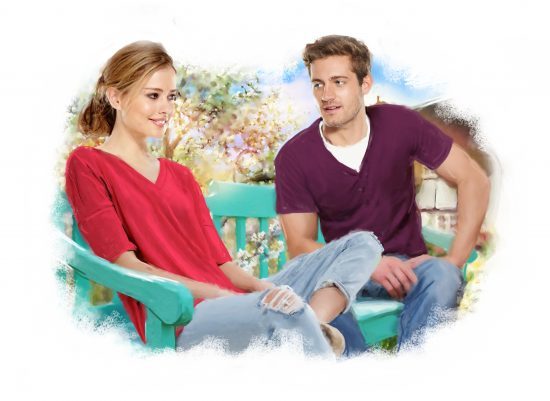 Somewhere to escape to.
We all have a special place, somewhere we love to visit, or where we can escape to. For Nell it's "The Apple Tree Bench" in Susan Blackburn's story of that name. Somewhere where she can figure out what – and who –­ she wants from life.
Finding just the right present for someone who has everything is the dilemma in "Zara's Gift" by Samantha Tonge, illustrated by Ruth Blair.
It's fancy dress time in "Dressing Up For Debbie" by Ewan Smith, and Alex's outfit for the office fund-raiser has them all in stitches. Well, almost all…
In Val Bonsall's "Friendly Relations", Mum's met a man. Trouble is, daughter Karin thinks he's all wrong for her – just like Mum thinks her new boyfriend is wrong for her. But do they tell each other? Illustration: Sarah Holliday.
I always describe Pamela Kavanagh's period stories as classic, which they are. However, that doesn't tell you how much fun they are, how great her characters, particularly her heroines. They're always spirited, feisty and likeable, just like Miranda in "The Poke Bonnet", on the hunt for the perfect hat. Illustrated by Mandy Dixon.
No one's perfect, Trish knows that. But she's not quite ready for best friend Cathy pointing out that that includes her. That's "Straight Talking" by Jean Cullop, illustrated by Andre Leonard.
We all love the delicate illustration the Fiction Team's Alan chose to go with "Just As I Am" by Celia Kay Andrew. It captures perfectly the equally delicate story about nine-year-old Marianne and her dream of being a singer.
Series
And talking of singing….We're almost at the end of Joyce Begg's choir series "On Wings Of Song". Part 28 this week, and Charles and Una visit York. It's a lovely city that's tempted me back for a visit myself, for another of my autumn workshops.
I'd love to visit "Riverside", too, especially now that glamorous Carol's on the scene. I could watch how George gives her the glad eye. You can't miss the latest in our weekly soap by Glenda Young.
Serials
New serial! "Together We Stand" by Heather Pardoe is set in 1904 just as the fight for women's suffrage is strengthening. But that's further down the line. First, Tanni has to meet Henry Gillingham to find out precisely what his uncle has left her in his will. Not money, not a cottage… Illustrated by Sailesh Thakrar.
And as that story begins, Louise McIvor's "The Mystery Of Anna Grace" reaches its conclusion. The mystery is still to be resolved, but the more pressing problem is a power cut and the house full of guests. Illustrated by Kirk Houston.