Story Starter: Specs On Fence
---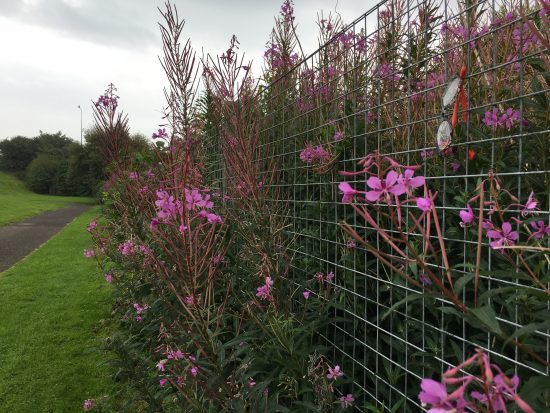 Photo: Shirley Blair
Yes, you read that right: Specs On Fence. Out for my lunchtime walk on Wednesday – nice day for it, as you can see; not – I was coming back along the path that runs between the park's grass and the railway line, and came upon these specs, hung up on the fence. Presumably they'd been dropped on the path itself, and whoever found them hung them up out of harm's way but somewhere they hoped they'd be spotted. Plainly the strategy worked.
And, as these things do, it set me thinking…. They're quite small, perhaps a child's. But they look like the kind of instant reading specs you can pick up everywhere these days.  Who dropped them? When would they miss them? How far would retracing their steps take them? If they're a child's what kind of trouble would they be in? Our schools started their autumn term this week which adds another dimension. As does the fact that the path is under the flight path lots of light aircraft take for our wee airport!
I must pop back next week and see if they're still there.
Of course, they might make you think obliquely, about loss of focus, shifting focus, losing sight of goals or seeing things more clearly…..
Food for story starting thought? I hope so.
And….
On another subject entirely, Kate Blackadder and Shona Partridge, two of our writers, alerted me this week to a really nice blogpost by another writer that discusses how much she loves "The People's Friend". I don't know Jennie Ensor or her writing, but she seems like a very nice person!
And in a book that my sister's reading at the moment, "And Then It Happened" by Linda Green, was this little nugget…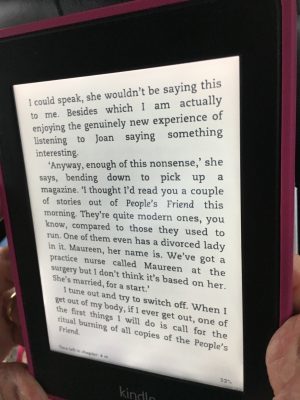 Now, what's interesting about this is that Linda must be a reader to be aware that we're working on becoming more modern, that we feature divorced characters in our stories now, and that that's a change…. So, again, I don't know Linda but I do admire her taste in reading!
And maybe someone else reading her book will find their interest piqued, and pick up a copy, and read one of the stories you've written from a Story Starter…
Oh, and maybe that'll inspire you to try one of our story writing workshops. Autumn booking form here.