Fiction Sneak Peek: September 9, 2017 issue
---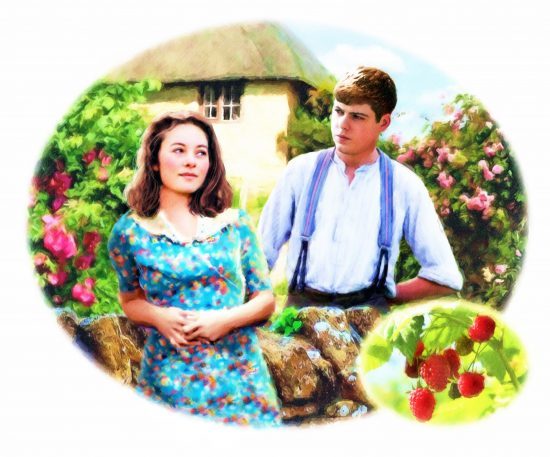 Illustration by Ruth Blair.
"Bearing Fruit" by Pamela Kavanagh features another of her wonderfully strong women, this time Daisy, who wishes beau Eddie had half of her confidence. How will he ever have the nerve to propose? She can't even persuade him to enter the raspberry competition at the summer fayre. But maybe a change of tactics will do the trick?
"Sail Away" by Alyson Hilbourne was inspired by a Story Starter, and begins as a literal but charming interpretation of the original pic. But what happens when Jess's beloved yacht goes missing?
It's hard to believe that we never used to feature ghost stories. Now we're even calling one "The Haunted Bench." It's by Jacqui Cooper, and all I'll say is everything isn't quite what it seems – even the "ghost".
"Out With The Old" by Alyson Hilbourne is about Bob, who has an aching hole in his heart that a clear-out unexpectedly helps fill. Illustration by Philip Crabb.
Kate Hogan writes "Chasing Dreams", about a couple struggling to stay afloat…Illustration by Martin Baines.
Fancy a trip to southern Spain? Glenda Young whisks us off to the sunshine in "The Scent Of Orange Blossom" illustrated by Sailesh Thakrar, where it seems dreams can come true.
Jessma Carter told us about the inspiration for her story "The Go-cart": "My son was eight and spent most of the summer trying to make a go-cart with his friend. My own friend was struggling to cope with her handicapped son while her husband was on an RAF mission. The story just came as stories do."
Serials
It's part 4, the final instalment of Lydia Jones's sumptuous and interesting story "Sanctuary Island". The write-up reads "Ieros had been their sanctuary, but now it was time to face the wider world together." But is that Sophie or Helena? You'll have to read it to find out whose happy ending that is! Illustration: Helen Welsh.
Meanwhile, in the 1904 setting of "Together We Stand" by Heather Pardoe, Inspector Williams has some questions for Henry and Madeleine. Illustration by Sailesh Thakrar.
Series
In "Tales From Prospect House" by Malcolm Welshman, Paul's out of his comfort zone at the life drawing class!
And you can't miss "Riverside", our compelling weekly soap by Glenda Young. This week: Anna and Carol have some bad news for Jenny. Oo-er…