Fiction Sneak Peek: Sept. 16, 2017 issue
---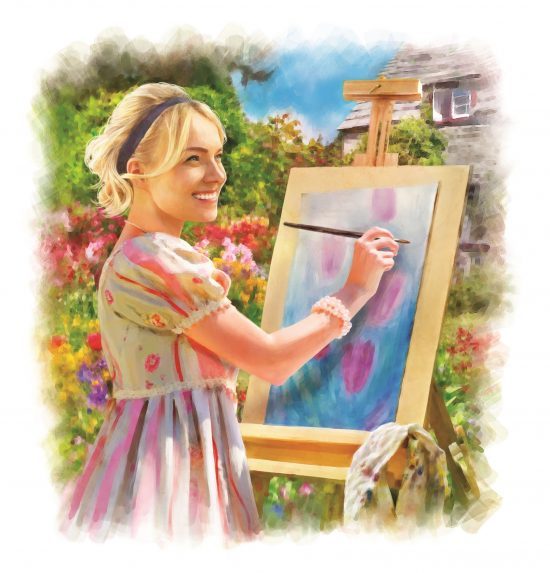 Illustration: Kirk Houston
"Lark Cottage" by Pamela Kavanagh is set in the early 1900s, with the cottage Hannah's temporary home as she sets out to fulfil her dream. What do you think that is?
Linda's about to have a big birthday. She just wishes she knew what husband Gordon had up his sleeve. Please, not a party…. That's "From Me To You" by Valerie Bowes.
In "Summer Loving" by Wendy Clarke, Livy arrives home from holiday, but can't stop thinking about the sun, the sand, the special man she met….Illustration: Mike Heslop.
For an ex-army sergeant, losing his voice is like losing his identity. And that's before he hears the recommended cure….That's "Lead On, Macduff!" by Jane Tulloch, illustrated by Philip Crabb. By the way, if you like Jane's sense of humour, you'll enjoy her books set in an Edinburgh department store. Visit her here.
Amy jogs for the good of her health, but one man on her route isn't half making her blood pressure rise! "In A Heartbeat" by Vanda Inman is illustrated by Jim Dewar.
"Across A Crowded Room" by Em Barnard is exactly the story you might expect: Jon and Diane have locked eyes once, but how will they ever actually meet? Illustration: Martin Baines.
An unusual story next, by Hilary Spiers – yes, the Hilary Spiers who writes those brilliantly fun "Hester & Harriet" books. "A Place Of Refuge" is much more serious, about an ordinary woman who opens her home to an orphan from the Middle East… It's beautifully sensitive and touching, this one.
Serials
New serial alert! "Going, Going, Gone" by Linda Lewis – her first for us after very many short stories – is set in an auction house about to feature in one of those TV shows. Illustrated by Ruth Blair.
And we've reached the penultimate instalment of Heather Pardoe's period story "Together We Stand". Remember last week? We left Tanni and Madeleine locked in the studio, trapped – and with unwelcome company….Illustration: Sailesh Thakrar.
Series
It's the owner rather than the pet who causes a stir in "Tales From Prospect House" by Malcolm Welshman. Malcolm has published several books of tales like these, by the way. Have a look at his website.
And you can't miss our unmissable soap "Riverside" by Glenda Young. It's all happening this week: Jenny's been sacked, Ruby's online dating, and Mary – poor Mary….