Fiction Sneak Peek: Oct. 7, 2017 issue
---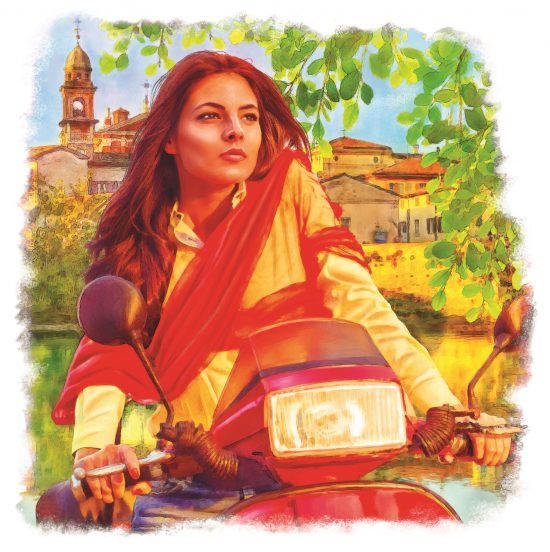 Illustration by Kirk Houston.
A luscious Italian setting brings sunshine to early autumn days in "The Road Out Of Rimini" by Angela Petch. Elisabetta can still hear her late grandmother's voice guiding her, advising her, helping her make the right choice…
"Could It Be Magic?" by Glenda Young is about Ian, whose conjuring tricks bring happiness to everyone. If only, though, he could magic up the right girl and happiness for himself.
Sometimes chatting to a stranger can make you see things more clearly. That's the message in "At The Bus Stop" by Val Bonsall, illustrated by Jim Dewar.
Ooh, you can't beat a sweeping period romance featuring an autumn storm, a shipwrecked sailor, and the local lass who rushes to his aid. That's "Blown In By The Storm" by Lydia Jones, one of her occasional Hen Bont stories, with a superb illustration by Sailesh Thakrar that captures all the drama.
"Under the Apple Tree" by Jan Snook begins with Donald planting a tree, just before he goes off to war. But he's also planting something else, in the hope that he'll be the one to dig it up after the war is over. Illustrated by Helen Welsh.
"Paris in Autumn" – it's the title of Tracey Glasspool's story and a dream come true for many, so why is coming back so hard for Carys?
Content – Sue's sure she is, so why does everyone else keep making suggestions to change her life? That's "Just As I Am" by Sarah Swatridge, illustrated by Martin Baines.
Serials
It's ever so satisfying when we see one of our short story writers graduate to the longer format of a serial, and here's another made the leap. "Legal Eagles" begins this week, Rebecca Holmes's first serial for us. It's set in 1982, in a small family law firm, and it's Helen's first day… Illustrated by Mandy Dixon.
From the rigid environment of a law firm to the rugged wilds of Scotland in the 1700s for the second and final part of Josephine Allen's spectacular "A Highland Adventure". Jessica's had her taste of freedom; now it's time for her to accept the marriage her father has arranged for her… Illustration: Kirk Houston.
Series
In "Tales From Prospect House" by Malcolm Welshman, it's Friday the thirteenth. Uh-oh!
In "Riverside", our unmissable weekly soap by Glenda Young, they're planning a surprise party for Ruby. What can possibly go wrong?