Story Starter: I'm On The Train – Or Not
---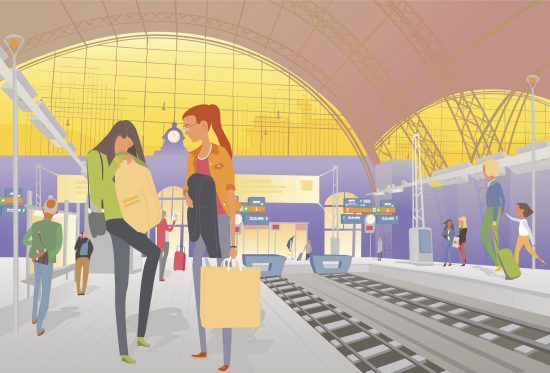 Pic: iStock
Here's the story starter image: people waiting for a train. I have a tale to tell about this….
Remember I explained my routine when Kate Blackadder and I are doing a workshop in York? That I travel down the day before and we get the train back together after the event?
So there we were, at the splendid York station. We'd followed the signs, were on the platform nice and early. People alongside us. We chatted, admiring the ornate fire escape outside the old station hotel and talking about books. A train came in to the platform behind us – and everyone from our platform disappeared on to it. No one left but us. What….?
We looked at our watches. Past time due. We walked down to look again at the signage. Now no mention of the 17.32 to Dundee via Edinburgh. Again, what…?
We went to the desk – to be told that it had gone from a different platform. The CIS – the customer information screens – had been wrong. Oh, handy. Now what?
Fortunately they were able to put us on the 18.24, a faster one, so all in all we weren't too much later home than expected.
So now fast forward to my visit to Edinburgh Writers this week. The train again. Got there without incident again. Afterwards I was at Haymarket station nice and early, on platform 4 for the 21.47 to Dundee. Lots of passengers, neatly lined up.
You know what's coming, don't you?
There was a guy standing next to me, on his mobile. I suddenly heard him say "Dash it! (or similar….) My train's just come in to another platform." Huh? So if his train had….
We all belted up the stairs along the concourse down the stairs to platform 2….just as it left without a soul on it. What….?
Back up the stairs, to the station staff, who were just as bewildered. No one had told them it was changing platforms. Again: oh, handy. And also, so who's running the trains?
I was lucky again, in that they were able to put me on the 22.14, though that was where my luck ran out because this one stopped at every single halt in Fife. Got home after midnight.
Kate says she's never travelling with me on a train again…
And talking of Kate, I had a really enjoyable evening at Edinburgh Writers, and I also want to draw attention to her latest blogpost which explains how inspiration developed into "Just My Luck" – I kid you not! – her super story in this week's issue.
Maybe my train travails will do the same for you…