Fiction Sneak Peek: October 21, 2017 issue
---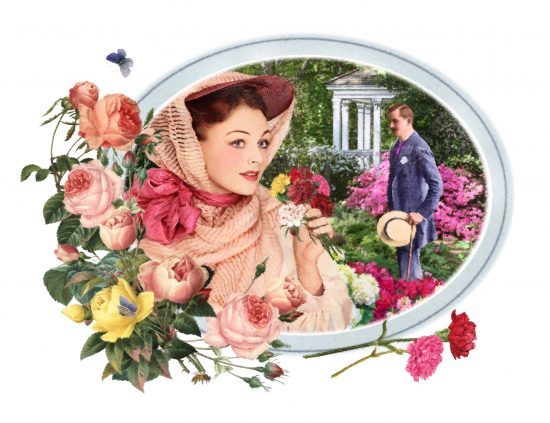 Illustration by Mandy Dixon.
A stunning illustration by Mandy Dixon opens this week's issue, alongside a fun story that makes a very good point. It's "An Equal Partnership" by Rivernee Locke, writer of many of our most popular pocket novels. It's set in the 1900s and stars the Carnations, garden experts. Actually it's Mrs C. who's the real brains "in a world", as her husband says, "too stubborn to admit that women have brains as well as beauty."
We have another garden story in "The Perfect Patio" Caroline's having installed by handyman – and handsome man – Hugo. This lovely will-they won't-they romance is by Lydia Jones and illustrated by Martin Baines.
I can't believe I didn't notice this before: our next story starts in a garden, too, with Stephen's nephew showing him a hibernating hedgehog. Autumn has come, but while some people feel sad at this time of year, Stephen is counting his blessings. But why? "Autumn Leaves" is by Kate Finnemore.
Ah-ha – no garden. An airport is the setting for "Time To Fly" by Sarah Batten, with Helen stewing on how she'll cope with being so far away from her daughter.
Have you been following Suzanne Ross Jones's cat café series? Like me you'll be willing Maxine and Angus to get together. First date this week – or at least, that's the plan….in "Romance At The Cat Café."
In "Something's Brewing" by Glenda Young, it looks like pub landlady Sandra's having a quiet day, but that's only the half of it. Illustration by Philip Crabb.
In "Two To Tango" by Della Galton, we join Cathy and Matt on the evening she's leaving him…. What's brought them to this, and is there any way back?
Serials
I'm loving Lorna Howarth's serial "The Dividing Tide". Between Jenna's prospects at Nankerris House with the imperious Morwenna, and her father all unknowing in Georgia, I rattle through each chapter to see what happens next. I hope you do, too. Illustration by David Young.
I like, too, how we can relate to "Legal Eagles" by Rebecca Holmes. Our understanding lies with Margaret and a mother's fears for her son in the Falklands, but with Helen, too, as she grows closer to Peter. Illustration by Mandy Dixon.
If you enjoy our serials, by the way, why not try our "People's Friend" pocket novels – a whole longer story in one easy-to-read book. On sale every fortnight.
Series
A stray winkles his way into Paul's lunch – and his heart, in "Tales From Prospect House" by Malcolm Welshman, our fun vet series. If these tickle your fancy, there are more mad tales in Malcolm's own series of books. Check out his website.
And last stop this week is in "Riverside". You'll never believe who Anna's latest client is at the salon! You can't miss our unmissable soap by Glenda Young.