Story Starter: Looking Up
---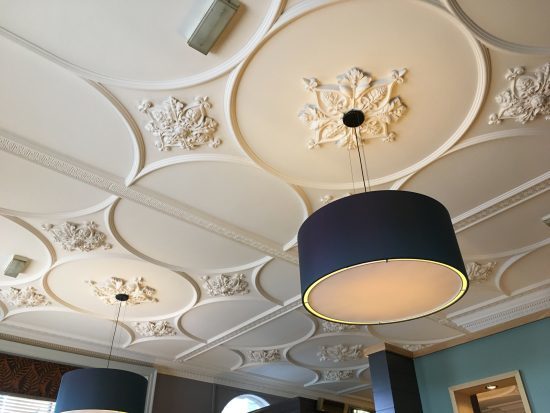 Photos: Shirley Blair
I'm a great believer in looking up as I wander round, especially if I'm in a city that's new to me. Old buildings can be surprisingly ornate at rooftop level, chimney level, even just top floor level. There's an old building in Dundee that's been decorated in a fake half-timbered style that's not at all typical for Scotland (that I know of). It's down near the docks and I wonder if that's why – the influence of other regions on a local merchant, perhaps. Some day when I have more time I'll investigate further, as to when it was built, by whom and for what purpose, and I might find my answer.
In fact, since my topic is looking up, I've just done exactly that. I've Googled it and got a hit. Apparently it's Category B listed, dates from 1880, constructed in the Arts and Crafts-style, and was formerly the Great Eastern public house. I still like my imagined scenario, though: that a merchant commissioned the building of the house in a style he'd seen in faraway places.
Anyway, the point is to look up, and that's what I was doing when I spotted this simple yet rather fine ceiling. It was in the breakfast room of the Premier Inn where I held my Newcastle workshop back in April. I was enjoying my bacon and eggs – and I remember posting a pic of that previously which has already prompted one story that I know of, by Julia Douglas.  Anyway, as I munched and savoured, my eyes roamed around the room and came to rest on the ceiling.
I liked that although many aspects of the building had been modernised since its days as a bank, this had been preserved. It spoke of history and stories and lives lived and scenes witnessed, and that's where you come in. Let your imagination take flight.
I'm also including a pic of the window that faced me which framed the mighty Tyne Bridge. Perhaps that feeds in to your story.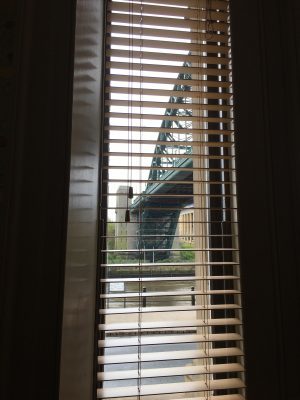 And even if these images do nothing for you, remember: while everyone else has their head down to their smart phone, bumping into lampposts, crossing roads without looking, be the one looking up….and crashing into lampposts!